6th September 2022
Introducing Sarah, our new Lead Nurse for community services
We recently welcomed Sarah Pinkstone to our Care Team as Lead Nurse for community services.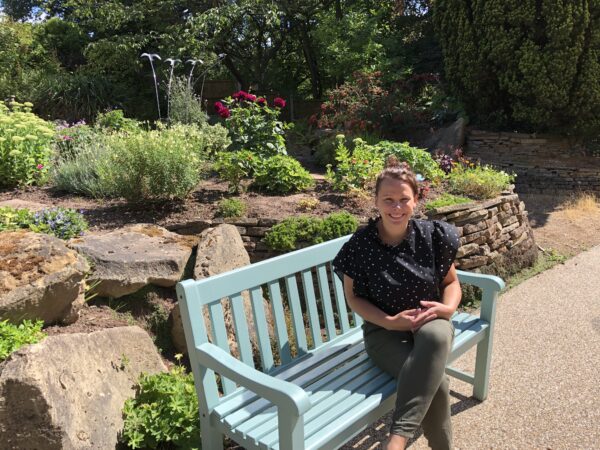 Sarah joins us after 15 years experience in the NHS at Nottingham University Hospital (NUH).  During that time she's worked with end-of-life patients, on COVID wards and in care of the elderly. Before she left she was Deputy Sister on the Major Trauma Unit at Queens Medical Centre.
The role
Sarah oversees the Hospice Outreach and Discharge Support (HODS) and Hospice Night Support (HNS) services, working a combination of days and nights and going out with teams to visit patients.
She's also responsible for line management and supervision of both teams plus managing the rota.
Sarah said: "I've always enjoyed palliative care and was aware of the hospice before I came here. I needed a change after being on the wards in an acute setting where you'd be rushing around and sometimes work 12 hour shifts without a break.
"At the hospice it's a different pace and you have more time with patients. I really like it here, everyone's friendly.
"Working in hospital when COVID hit it was difficult to find dignity for patients at end of life when their families couldn't be there with them. It's great that the hospice provides services in the community and we give people their last wish to be at home around their families.
"I love patient care. It's an honour and a blessing to be there when someone passes away."
As a registered nurse, Sarah is able to administer medication and change syringe drivers while visiting patients, which takes pressure off other NHS services such as District Nurses.
She is looking forward to expanding the service, taking on a bigger caseload and reaching more people.
Sarah grew up in an Oxfordshire village and moved to Nottingham in 2006 for her nursing training as NUH was one of the top-rated nursing hospitals at the time. She qualified in 2009.
When not working she is kept busy with her two children, aged five and nine, and her 12-year old Staffie cross. She enjoys days out with her partner and children and eating out.
If you're interested in joining the team at Nottinghamshire Hospice, we're currently recruiting for a number of roles. Check out our current vacancies here.