14th May 2020
2.6 challenge raises £5K+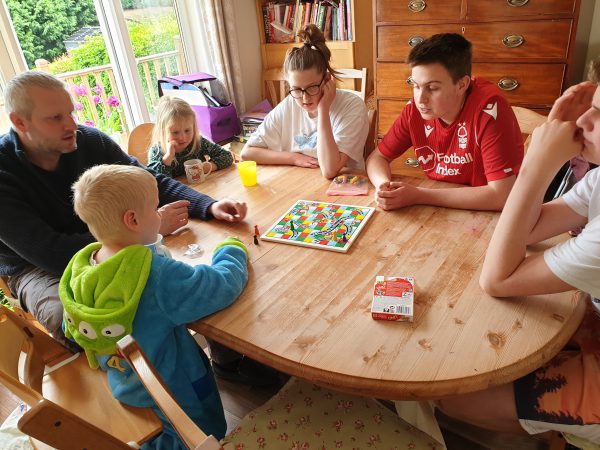 Supporters across Nottinghamshire got behind the 2.6 challenge with innovative, creative and energetic ways of supporting the hospice – raising more than £5,000 between them.
Among those taking part were a family of seven who played 26 board games in 26 hours to raise money for the hospice in the 2.6 challenge. Rachel and Simon Sanders and their children aged 3, 6, 12, 15, and 18 all love playing board games, so they sat down for their game marathon together.
There was something for all the family, starting with Trivial Pursuit, Skip Bo and Poker, taking in Pop up Pirate, Triominoes and Play Doh Smashed Potatoes and finishing with rounds of Countdown and Logo What Am I? They completed the challenge with 20 minutes to spare and raised £140, almost doubling their original target.
Rachel said: "We've always enjoyed playing games as a family and we've been playing more since lockdown. When we heard about the 2.6 challenge we wanted to get involved and we decided 26 games in 26 hours would be a good challenge for us as it's something we could all be involved in, something we can do at home and it really would be a challenge for us! We all had a great time and lots of laughs – although we're staying away from games for a few days- our brains were scrambled by the end!"
The family chose to raise money for Nottinghamshire Hospice having experienced the benefits of hospice care first-hand. Simon's mum spent her last days in a hospice in Bristol and they were impressed by the care she received so wanted to support their local hospice.
Another family who met the challenge head on are the Streeter family from Lowdham. Three generations took part, including two-year-old Nellie who did 26 jigsaws, her young cousins who performed 26 dance routines and Jane and her husband who are walking 2.6 miles a day in memory of Jane's mother who the hospice cared for.
Sammy Anne Tomlinson and her boyfriend ran 26 km between them on the Sunday (13km each) to raise funds in memory of Sammy's grandfather Bruce Melvyn Osborne. Nottinghamshire Hospice stepped in to help Bruce get home from hospital during lockdown. They provided day and night care during Bruce's last days and support for his wife, Sammy's grandma.
Sammy said: "I cannot thank the hospice enough for the care they gave grandad and my nan. We're forever grateful for their amazing work. "
Rosemary Chambers, aged 81, completed a 26 km walk around her garden in one and a half days, walking for up to six hours at a time and averaging 4.1 km an hour. She walked 19 km on the first day then seven the following morning.
Rosemary and her husband Frank, both volunteers at the hospice's Calverton shop, are keen walkers and although Frank is able to get out to his allotment, Rosemary was missing outdoor exercise.
"We usually have two or three good walks a week to keep fit," said Rosemary. "But apart from nipping to the post box I wasn't really getting exercise, so when I saw that challenge I thought let's do it!"
Rosemary, who had breast cancer in 2012, says the challenge helped her keep her fitness levels up even though she can't go out. Her garden marathon has raised more than £200.
Others who supported the campaign included Elizabeth Pierrepont, another Calverton volunteer, who walked 26 miles in a week, Rachel Harrison who now lives in  London, who encouraged members of her Notts family across the country to dance non-stop in their gardens simultaneously for 26 minutes, and Ingrid Tapp, who walked 2.6 miles.
Roxie Hickling, fundraiser at Nottinghamshire Hospice, who organised the challenge, said: "We're so grateful to all our fabulous supporters who got behind the challenge. They proved that even during lockdown there are lots of fun, creative ways of supporting the hospice and keeping active in the process."
Nottinghamshire Hospice is facing an estimated loss in funding of £150,000 due to shop closures and event cancellations. It launched its Forget Us Not appeal last month to help address the shortfall. Find out how you can support the appeal here.