15th February 2022
A day in the life of retail support
Ever wondered what happens to your donations once you've dropped them off? How do they get sorted? What happens to items we can't sell? What if something valuable is donated?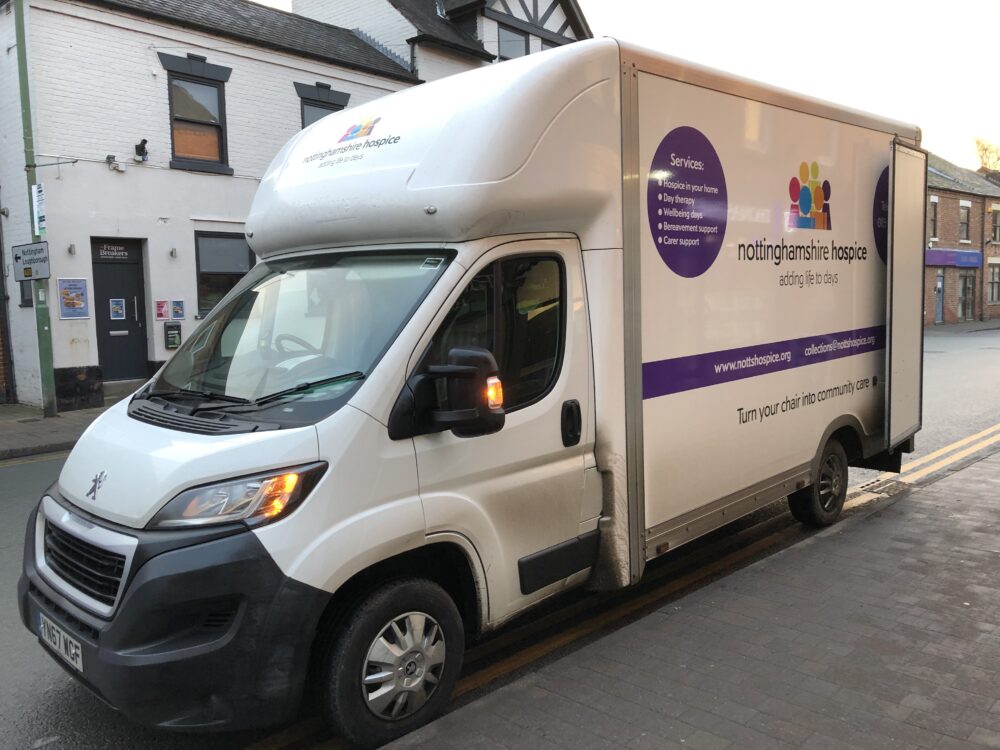 Our Retail Support Team work tirelessly to sort stock, allocate items across our ten shops and decide what to do with unsold goods. Central to their work is a 3.5 tonne Luton box van and a warehouse  tucked away in a corner of Radford.
We spent a day with the team to get an inside look at what goes on behind the scenes, and today we bring you a day in the life of retail support!
7.30
The day starts early at the warehouse. Retail support manager Jayne's been here since seven.  Jayne's been with the hospice 11 years. Her background as a retail manager at River Island, has given her an expert eye for fashion.
The rest of the team arrive soon after to start their busy day. Today it's driver Kevin, retail support assistant Patryk whose expertise is in gaming and IT and antiques specialist Susan on duty.
Kevin and Jayne are heading off in the van on a round of the shops to collect 'culled' stock. That's surplus stock which hasn't sold or which has been donated to a shop where there's not enough space to put it out on the shelves.  It will be taken back to the warehouse to be reallocated.
It's a 90-mile round trip today and we have nine shops to get round before lunchtime.
8:00 first stop, Wollaton
We arrive before the shop is open, so we let ourselves in. There are bags of culled stock to be taken to the hospice, we load them up and move on.
8:30 
Ruddington's next on the list. We pull up just as manager Collette arrives to open up. The shop's recently had a refurb and is looking super smart.
After loading up, there's time for a quick chat with Colette before heading off to the next stop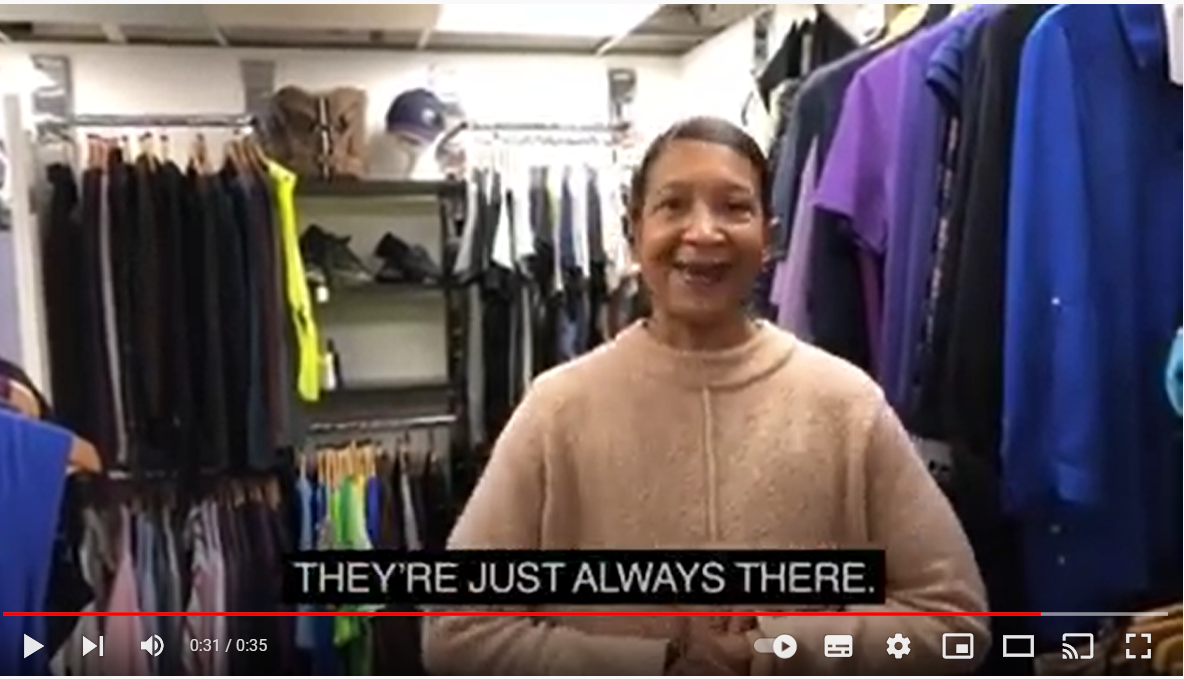 Here's what Collette says about the support team.
8:55  West Bridgford
Hello Nicola! Shop Manager Nicola draws inspiration from Pinterest and Instagram for her creative displays. She's excited because Instagram influencer Astrid @iwantyouinmylife – who has 45k followers – liked a pic of one of her displays .
9:20 Radcliffe
We're now at Radcliffe.  Manager Mark is an accomplished artist who uses his talents to make the shop window look fabulous. Here he is with one of his amazing window paintings
9:50 Burton Joyce
The drive to Burton Joyce takes in some picturesque scenery around the Vale of Belvoir. To pass the time en route, the crew do the Planet Rock 'guess the year' challenge.
At the shop we're met by Assistant Manager Claire. Claire volunteered here since 2019 and was recently offered the Assistant Manager role.
Here's a clip of Claire sorting through some of the day's donations. 
10:15 Calverton
At the shop, we meet volunteer Sylvia (pictured) and Manager Lynne. There's  excitement because they've just sold an electric recliner for £300.
We pick up a vintage projector which Lynn has saved for the team to take to the Mapperley shop for their vintage & retro section.
Lynn's full of praise for the retail support team. "Our drivers and the depot are amazing. The support we get from them is unconditional."
10:40 Blidworth
It's busy at Blidworth.  Donations are piling in, and customers are arriving for coffee. The Blidworth shop has a café area and serves tea, coffee and cake.
Regular customer Marie says: "I come here often. They're so friendly and they have good quality stuff for sale. It's nice to be able to have a coffee."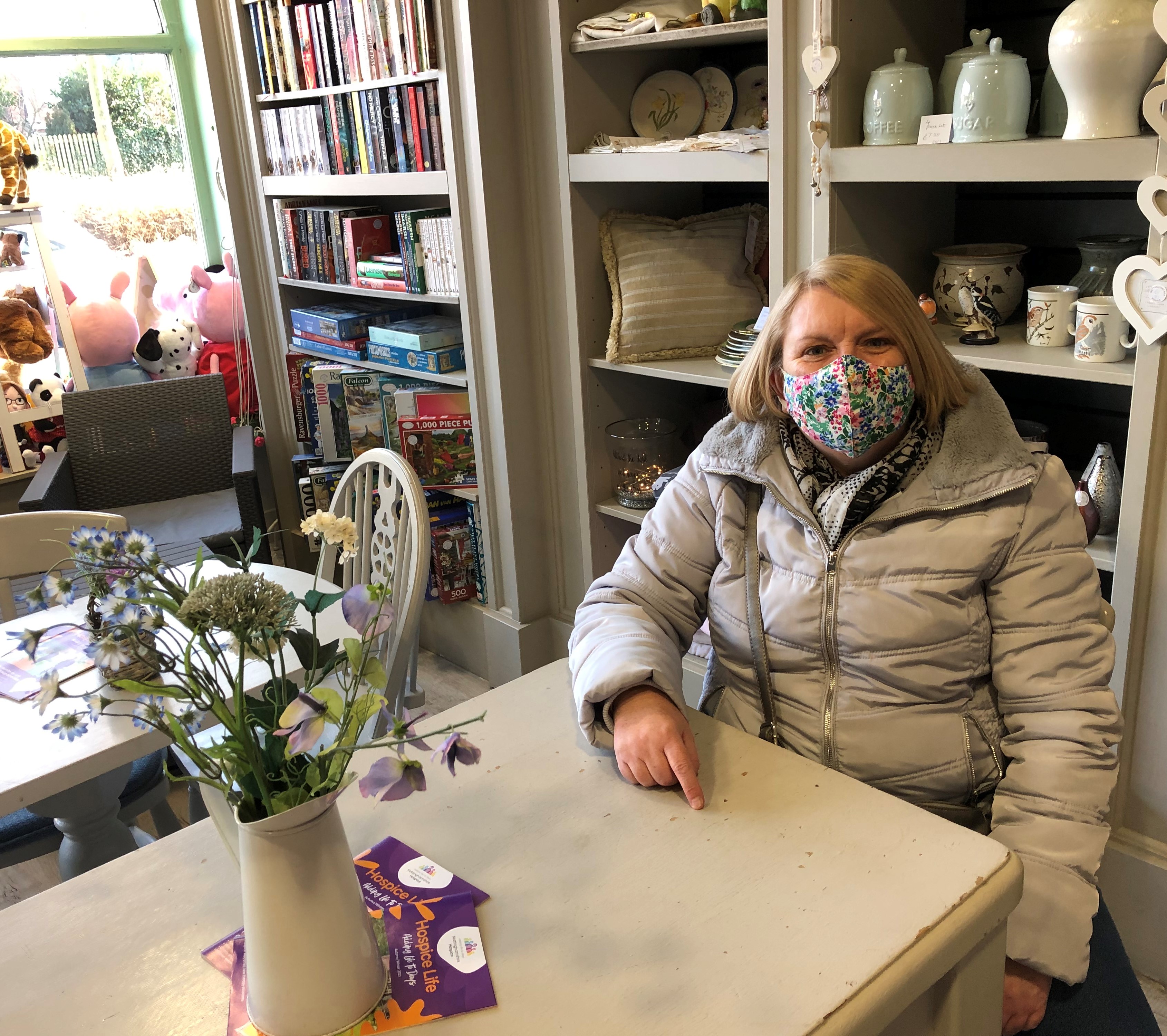 11:12 Mapperley
A good quality banjo's been donated by mistake. Luckily for the donor, it had been out in the window for a day and hadn't yet sold. Manager Cheryl says this is quite a common occurrence. Moral of the story, check your donations before you bring them in, in case something you want to keep has crept in!
It's a quick turnaround to collect the culled stock.
11:35 Sherwood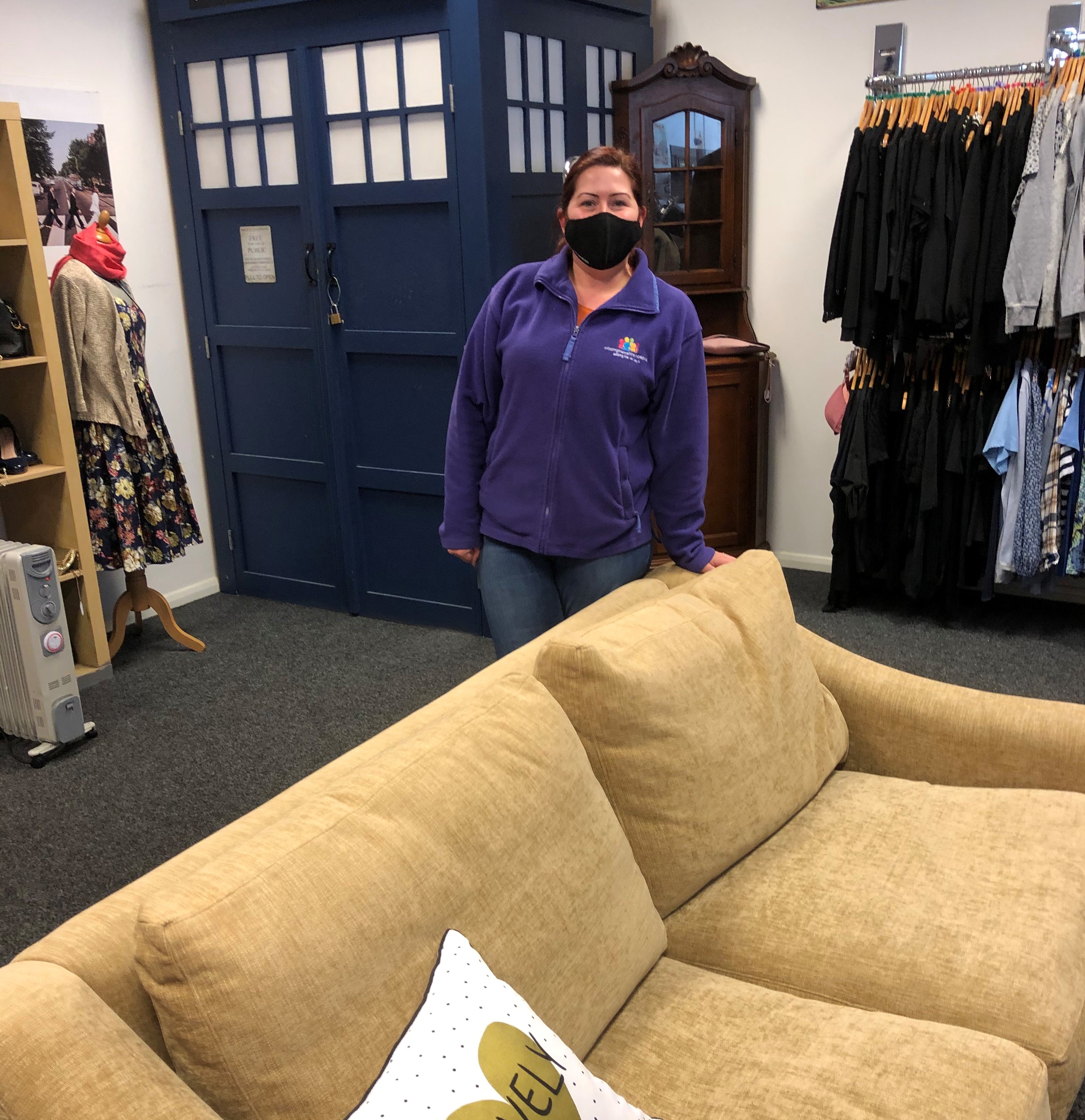 Last stop on the morning run is Sherwood, where Assistant Manager Leanne is hero of the hour, having sold three sofas in a day – worth £500. She also sold a table and chairs within two hours of them being put out on display.
There's also a mystery object for Kevin to identify. Can anyone guess what it is?
11:55:  back at base.
We arrive back at the warehouse.
'Nine shops and a full van,' says Kevin. 'I call that a good morning's work.'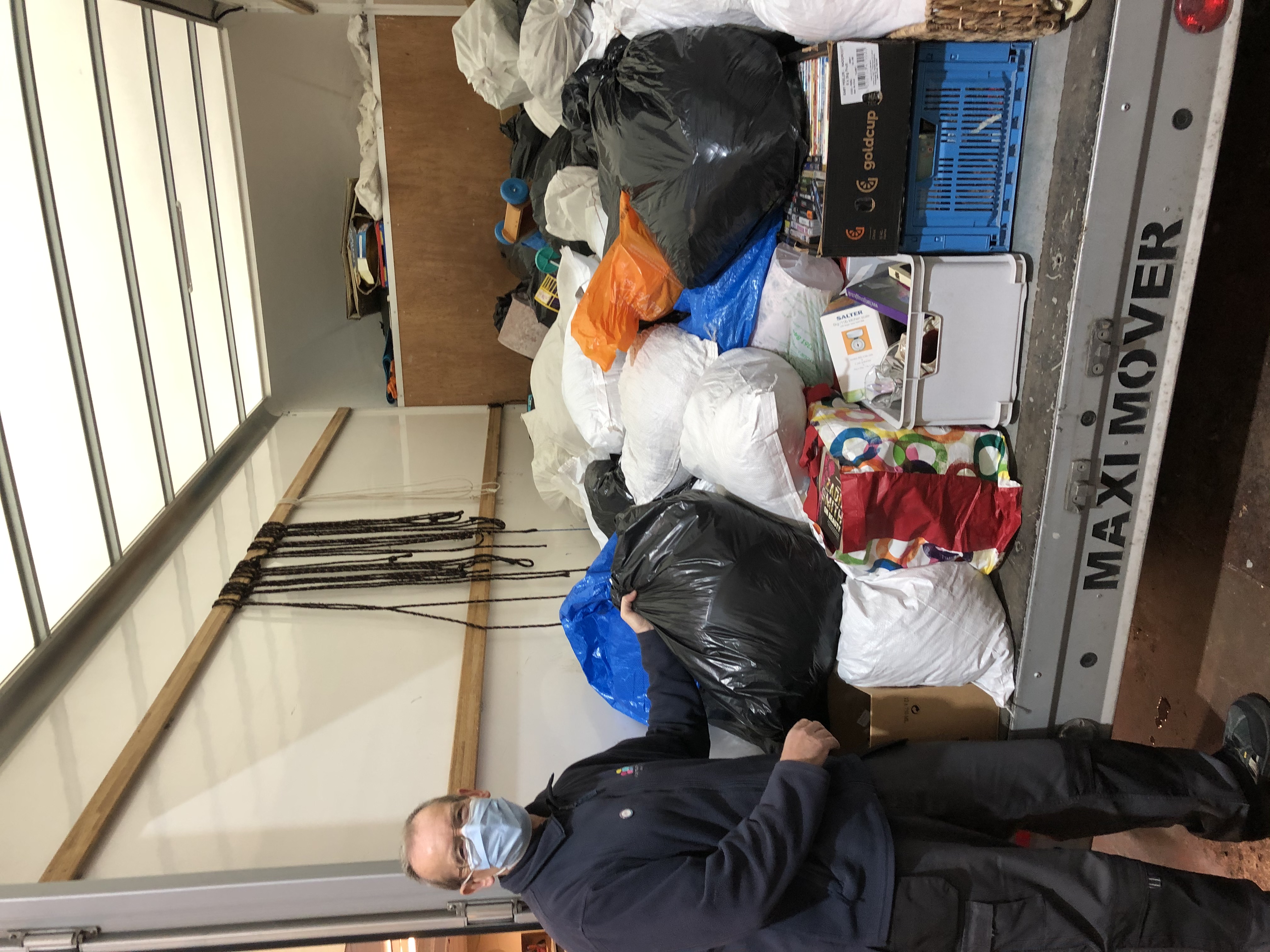 12:30
Over lunch, I chat to antiques specialist Susan. She has an eye for anything that might fetch something at auction. She arranges these in lots then takes them to auction on Saturdays. Last week's haul raised £866. This included a set of Watson Fothergill prints which went for £150. Recently a lot containing two bedraggled 1970s Barbie dolls and a Cindy doll sold for £160 and a set of Meccano for £175.
Susan says: "My role is lovely, it's so varied. I'm always busy and I love it."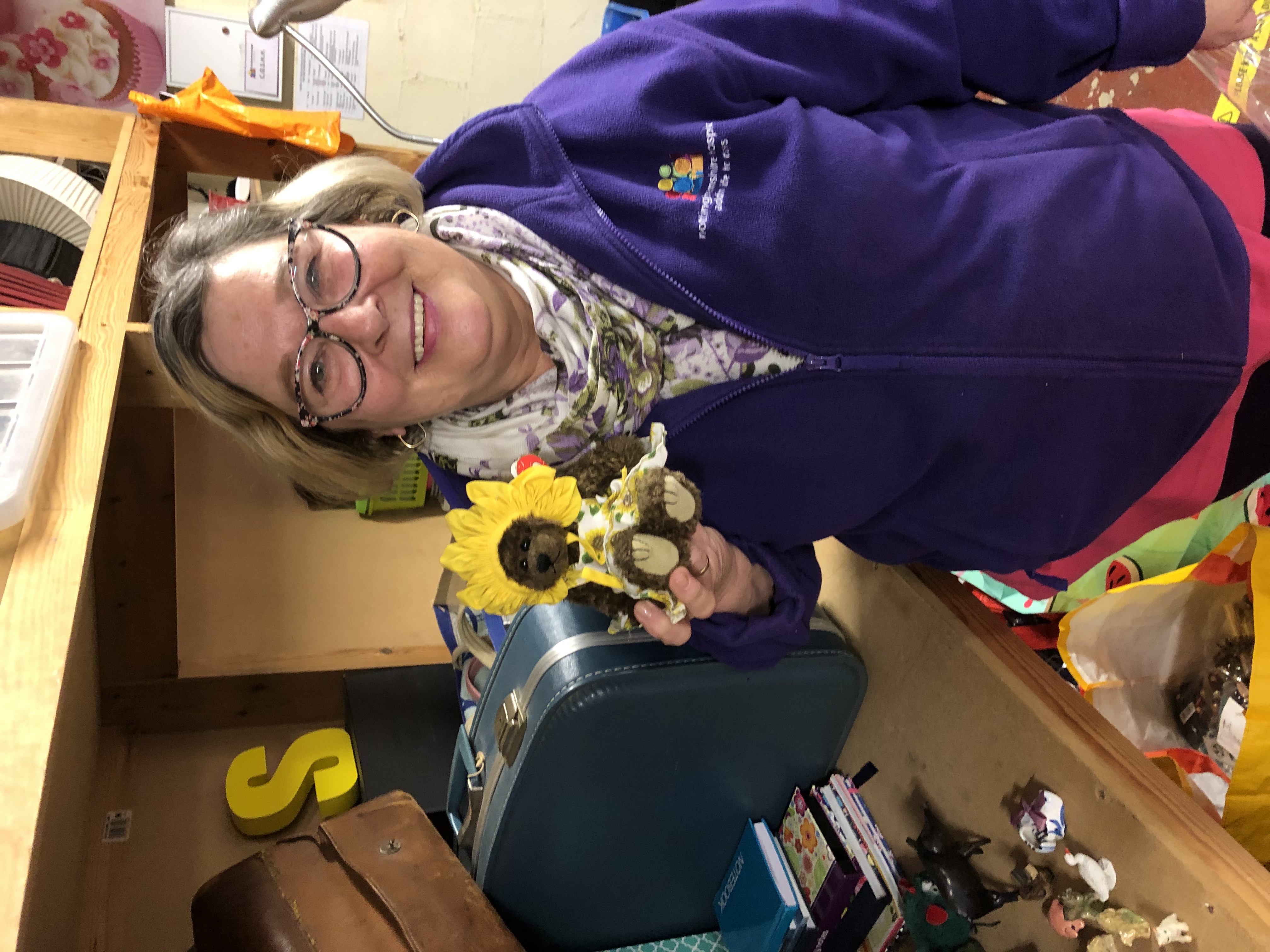 Here's a video of Susan explaining why she loves her job. 
13:00
It's time to load up the van for this afternoon's trip to the rag merchant. There's a mountain of rags bagged up which needs loading, so it's all hands on deck.
But before we deliver the rags, there's one last stop to make. Sutton in Ashfield is our northern-most shop and it's another sale in the bag for Assistant Manager Mark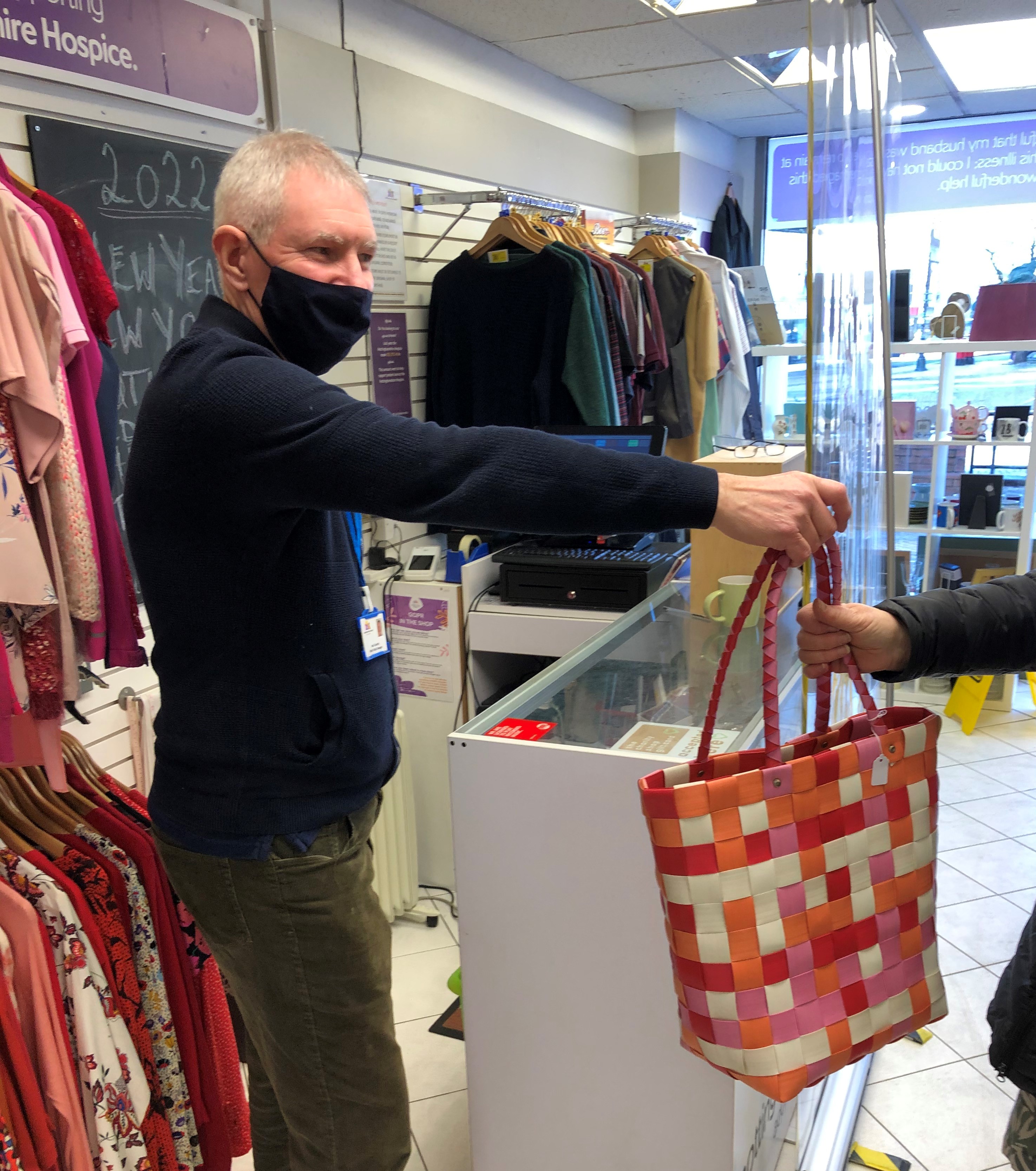 14:00
We arrive at the rag merchants. Twice a week, the team make this trip, dropping off rags which are then recycled so nothing is wasted!
The van gets weighed in on arrival.
It's a working yard with huge juggernauts reversing and fork-lifts manoeuvring. A truck backs a giant cage up to the van. Kevin and Patrick climb into the back of the van and lob all our bags into the holding cage. It's done in a matter of minutes.
Before we're weighed out, Kevin and Patrick play 'guess the weight.' There's 920 kilos of rag.  We won't tell you who won, but they're both pretty close!
15:00
On the drive back to Nottingham, Kevin and Patrick tell me what they like about their jobs. "It's a great team and a busy and varied job," says Kevin. "I used to work in the commercial sector where it was all about making money for profit, here there's a sense of satisfaction that what you're doing is creating money for care."
Patrick agrees: "It's a small team but everyone helps each other. Where I worked before it was the same every day. Here each day is different."
We've clocked up 88 miles today but there's a sense of a job well done as the van heads back to the warehouse.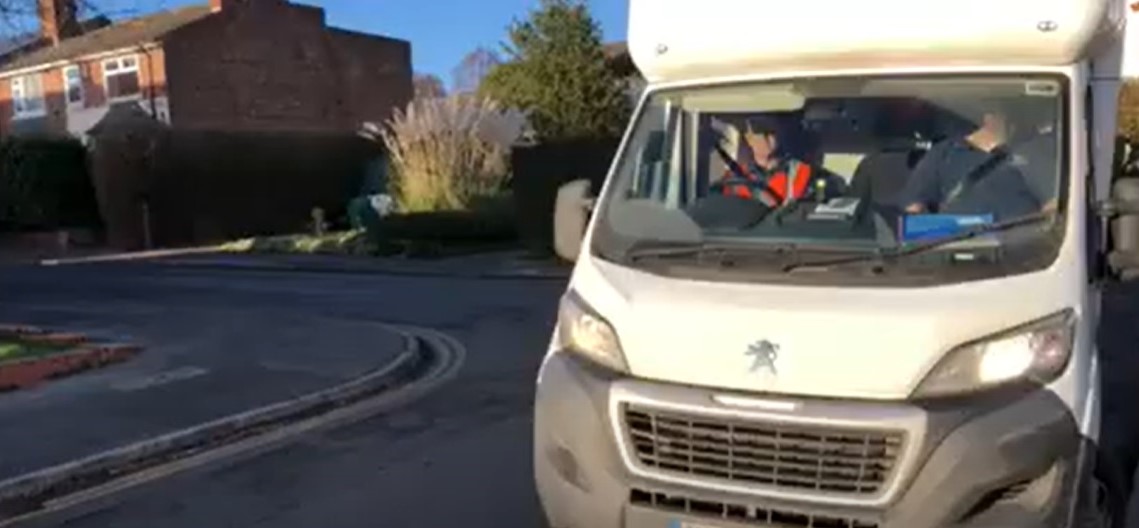 Here's a clip of the van driving off at the end of a busy day.