18th August 2021
Alan clocks up 10 years as a hospice volunteer
As group activities have got underway and patients have returned to the hospice, so have volunteers, among them Alan Shardlow who recently celebrated his 10-year anniversary of volunteering at the hospice.

Alan started at the hospice in 2011 after retiring from 32-years as a pharmacy storekeeper at Mapperley Hospital. He began volunteering in the shop which was previously inside the building on Woodborough Road, before becoming a Day Therapy volunteer.
During lockdown Alan continued to support patients by making weekly welfare calls, which he still does. He now also comes to the hospice on Wednesdays and Thursdays where he runs watercolour sessions for groups of patients in the new GRACE unit.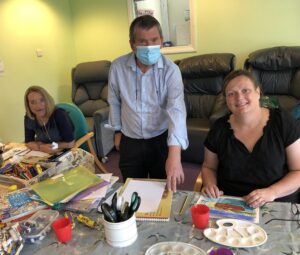 Alan, who was shortlisted for a Nottingham Post Volunteer Carer of the Year award in 2018, said 'I was very excited to walk back through the hospice doors after 16 months. I love volunteering at the hospice.  I'm inspired by the patients and want to keep them smiling, happy and entertained.
'I like the way the new unit is organised, with structured activities, and I enjoy running the art sessions for patients – they've been very successful.'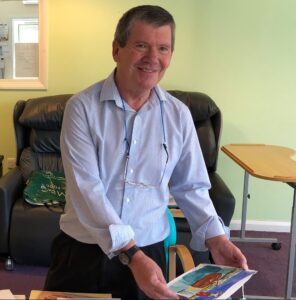 Alan, himself a keen watercolour artist, added: "Watercolour painting is something patients can focus which is completely absorbing. People are often surprised at what they can do with a bit of encouragement and guidance.'
At Nottinghamshire Hospice we rely on the support of our wonderful volunteers to deliver our services. We are currently seeking new volunteers, especially to work in our shops and to drive patients to the hospice.  Find our more here.