5th April 2022
Ambulance crews and hospice staff team up to cut hospital admissions.

Frontline clinicians at East Midlands Ambulance Service (EMAS) can now refer patients directly to Nottinghamshire Hospice for intervention at night to prevent emergency admission to hospital.
In a scheme launched today and trialled since February, crews attending end of life patients can contact the hospice to arrange an urgent visit from the hospice night support teams, to help families care for their loved ones at home.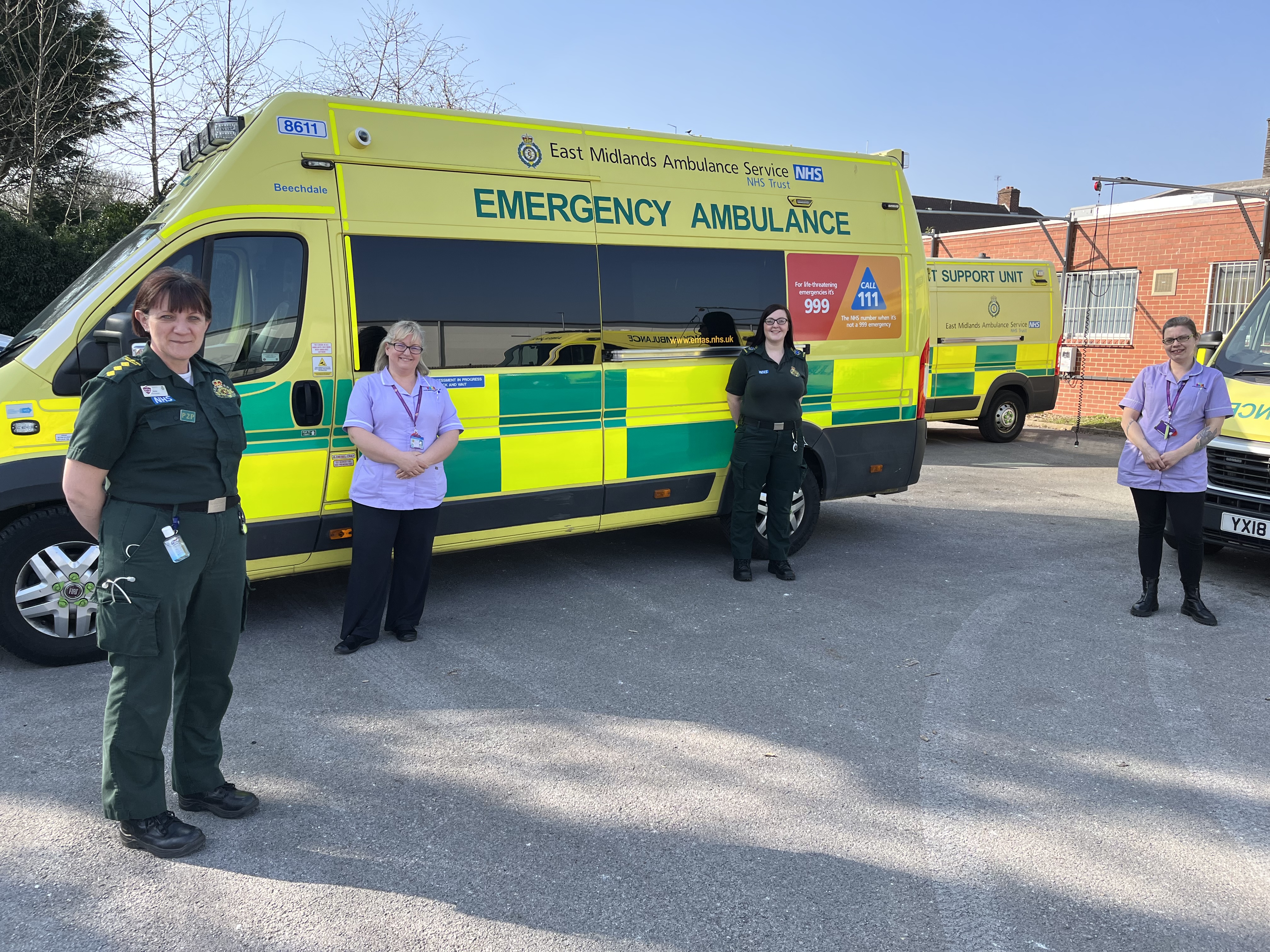 The night support teams provide care and emotional support to patients and their carers throughout the night.
Rachel McCarty, Director of Care at Nottinghamshire Hospice, said: "A crisis that happens out of hours is much harder to manage than in the daytime and when someone is approaching the end of their life it can be disruptive and traumatic for them and their family members if they get rushed into hospital. It also increases pressure on the hospital trust.
"This new scheme allows the patient to stay in their home environment where we will support them.  It means ambulance crews can feel comfortable leaving patients in their own homes, knowing they have the hospice on hand, and families get the help they need to care for their loved ones at home."
Referral to other hospice services
As well as visits from the night support team the hospice can also advise families over the phone and refer patients to its other services.
Suzie Matthews, Senior Clinical Lead for EMAS in Nottinghamshire (pictured below) said: "As an ambulance service, we do much more than simply transport patients to hospital.
"Often we attend patients who are in physical and/or mental distress when coming to the end of their life and they need urgent assistance rather than a trip to hospital.
"Our highly-skilled frontline clinicians are experienced in performing concise and thorough medical assessments and interventions for their patients at the scene.
"Even when our ambulance clinicians know that the right thing for a patient is to stay in the comfort of their own home, this can sometimes be a difficult decision.
"Thanks to the partnership between ourselves and Nottinghamshire Hospice, our ambulance crews can have these complex discussions with the Night Support Team and ensure the right care is put in place for the patient and their family.
"Since we started trialling the scheme in February, it has already helped a fair amount of our patients who are at the end of their life to die with dignity at home, rather than experience the upset and added stress of an unnecessary hospital admission."
Helen Marshall, an Ambulance Technician at EMAS, pictured (left) below, explained the impact the service had on her and her patient when she contacted the hospice night support team recently.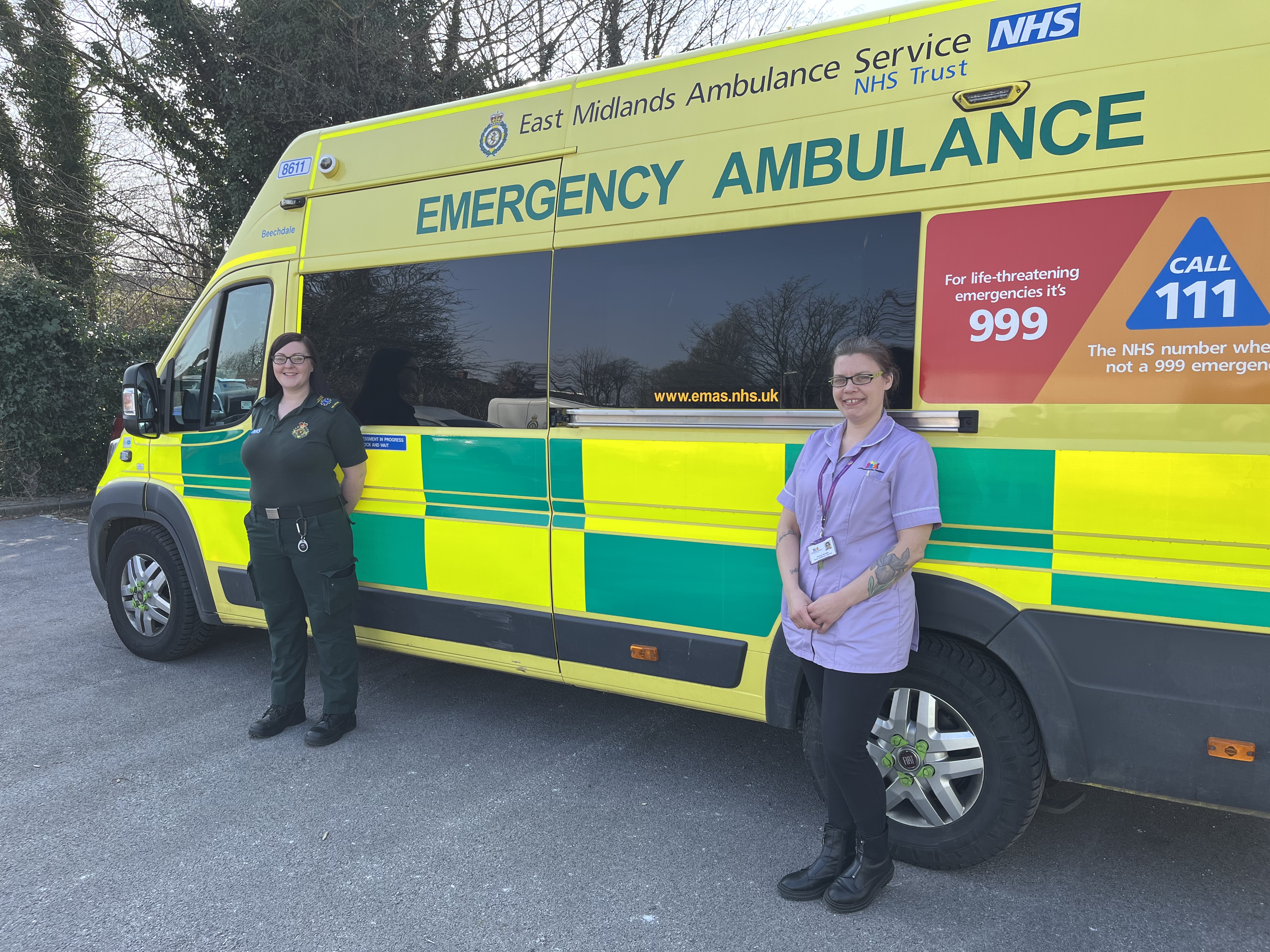 She said: "After assessing my patient at the scene I realised that while they didn't need to go to hospital, they required additional on-going care to meet their end of life requirements.
"Being able to refer my patient to the hospice meant they got the most appropriate support to meet their needs, ensuring that the end of their life is as dignified as possible.
"I was informed by the hospice that the family will also be supported with access to a 24-hour helpline which definitely helps us feel reassured that the patient and their family don't feel they are left to deal with anything on their own during this difficult time."
Nottinghamshire Hospice's dedicated palliative nursing teams provide crucial end-of-life care for patients in their own homes and support for their families, day and night. Find out more here.