21st January 2020
Annette puts best foot forward to say thank you for father's care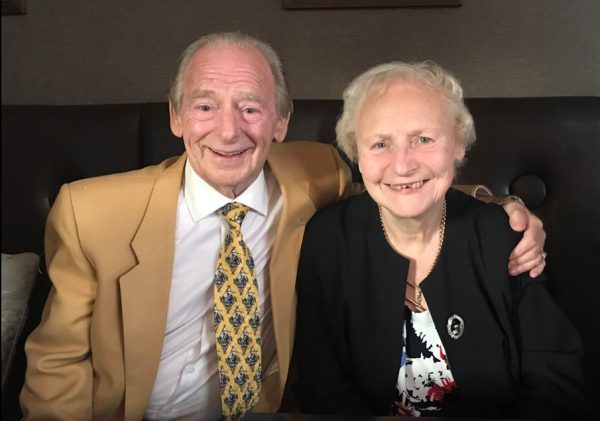 A Lowdham runner is to tackle the London Marathon in her father's memory a year after he died of cancer, raising vital funds to help patients at Nottinghamshire Hospice as a thank you for his care.
Annette Knowles, 55, a member of Notts Women Runners, was selected for Nottinghamshire Hospice's only London Marathon ballot place.  She started running seven years ago and has completed several half marathons, but this will be her first full marathon.
Her father Alan Yeomans died in April 2019, aged 79, just four weeks after being diagnosed with advanced lung cancer. The family received overnight Hospice at Home care at Alan's Gedling home in his final few weeks.
Annette, who has two sons aged 13 and 20, cancelled a family holiday when she heard her father could have just weeks to live. She said: "He declined very quickly so I went to stay at Mum and Dad's to help look after him. I was sleeping on the settee and mum was on a camp bed. When you're caring for someone 24/7 it's so tiring.
"The people who came from the hospice were so nice and having that support made a big difference. Knowing someone's there who will let you know if anything happens means you can get some sleep."
She is training six days a week despite receiving physio for a recent leg injury.
"Training is hard but I'm really on it now and I know I'll do it. I don't care how long it takes, I just want to get that medal," she added.
Well on track to smash her £1,500 fundraising target, she has also organised a host of other events including a charity disco at Lowdham Village Hall on 25th January and a series of prize draws. Residents and businesses in the village have encouraged her and donated prizes.
"Everyone's been really supportive and generous," she added. "I'd love to raise a lot more than the target I've set. Ideally I'd like to raise £2,500."
Annette finds running helps her channel her grief for her father as well as clearing her mind and helping her physically and mentally.
Roxie Hickling, Fundraiser at Nottinghamshire Hospice, said: "What Annette is doing is really impressive. We really appreciate her support and wish her well with her training."
To sponsor Annette, visit her fundraising page here.
If you would like to support Nottinghamshire Hospice by organising your own fundraising event or taking part in one of our challenges, here's how you can get involved!