1st June 2020
Ann's Story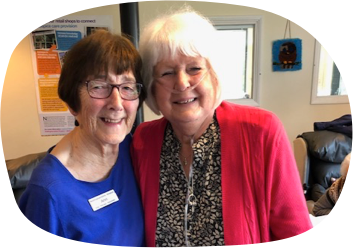 Ann initially volunteered at the hospice shop in Radcliffe-on-Trent, eventually changing her role to become a Day Therapy volunteer at the Hospice.
Ann, 83, from Radcliffe on Trent, was born in Derbyshire but began her career in London, working in nursing and care.
She moved to Nottingham when her parents became elderly and needed help. She cared for both her parents at home until they died.
Initially Ann worked as a shop manager for another charity in Radcliffe, but when that closed ten years ago, the hospice shop was opening up in the village, so Ann asked them if they needed any help.
'I had 23 volunteers in my shop and quite a few of them transferred over to the hospice shop. Three are still there!
Initially Ann volunteered at the hospice shop, but she really wanted to work in Day Therapy.
Ann says: "I like chatting to patients and being able to make them smile and I like caring for people. When you say you work at a hospice some people say 'I could never do that,' but I say why not? We're all going to die, It's where we're all heading. But you can still have a bit of fun even when you're on your way. That's why I like coming here and chatting to patients.
"The rewards are huge – I love it!"