8th June 2021
Army friends scoop £10K in memory of much-loved aunt.
Former serviceman Matt Sharpe and 20 friends took on a gruelling seven-hour endurance challenge in the Peak District, raising a phenomenal £10,100 for Nottinghamshire Hospice, more than tripling their original £3K target.

Matt and his friends – among them ex-army colleagues – completed the Great Cloud Walker challenge involving a 4km kayak across a reservoir, 30km hike across the lofty ridge line between jagged gritstone outcrops then a 100ft abseil, in memory of Matt's aunt Julie who received care from the hospice at the end of her life.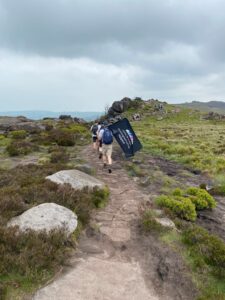 Matt, 36, said: "My feet were a bit sore but otherwise I felt great! We all did. There was a real sense of achievement for all of us as everyone had their own personal goals. I'm overwhelmed by how much money we've raised.
"The toughest part was the walk, but we smashed it because we'd put in the training and we were ready."
The team carried a Nottinghamshire Hospice flag and wore T-shirts printed with a picture of Matt's aunty and the words 'In Memory of Julie Nadin'.
Hospice care
Hospice nursing teams cared for Julie – pictured below – in her Clifton home in her last weeks of life. She'd been diagnosed with  Breast Cancer in 2018 and died in December 2020 aged just 62.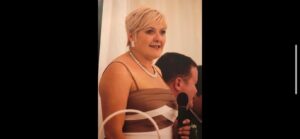 Matt said: "Julie was in remission but the cancer came back and spread to her lungs and brain. It was very quick. She was celebrating at my grandad's 90th, she was dancing and seemed healthy but a few months later she was bed-bound.
"Nottinghamshire Hospice came out to her house. They supported her, my uncle and the whole family through this time. I wasn't allowed to see her in her final weeks but I wrote her a letter and did a voice recording for her.
"We need services like this because family members may not be able to help. Emotion runs high when you're just about to lose your loved one so you need support. The hospice provides a service that is second to none, for all families."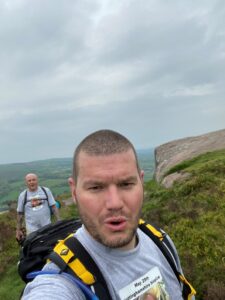 Challenge
Matt – a former Infantry man from the Worcestershire and Sherwood Foresters regiment who has seen active service in Afghanistan and toured Kenya, Botswana and South Armaargh – takes on an annual challenge with his friends, choosing a different charity each year.  Matt suffers with fatigue in his feet from his time in the army but his friends encourage him.
His aunt Julie and her husband Roy – who served in the same regiment – were keen walkers which is why he chose this particular challenge. "Aunt Julie would have been proud and she would have been cheering me on," he said.
After they reached the finish line, Matt made a speech, as did several of the others. "This was the first time we'd all been together for over a year so it was quite emotional," he added.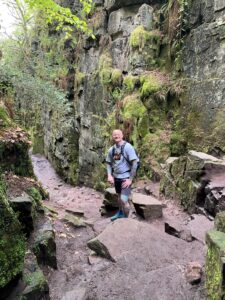 He paid tribute to all his friends who took part, with a special mention for Guy Redfern (pictured above) who organised the event, and Jason Morley (below) who organised sponsors and t-shirts.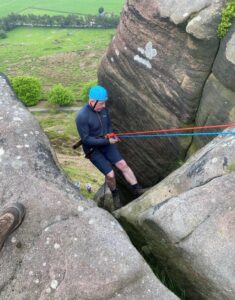 Rebecca Taylor, Community Fundraiser at Nottinghamshire Hospice, said: "We're blown away by what Matt and his friends have done to support the hospice, the huge amount of money they've raised is truly impressive.  We're pleased we were able to support Matt's family when they needed us and we're very grateful for this funding which will help other families."
Nottinghamshire Hospice relies on the generosity of local communities to raise the £3 million a year it needs to fund its services. If you'd like to take on a challenge to support the hospice, there are lots of ways to get involved. Find out more here