18th August 2020
Beverley's first novel to raise funds for the hospice.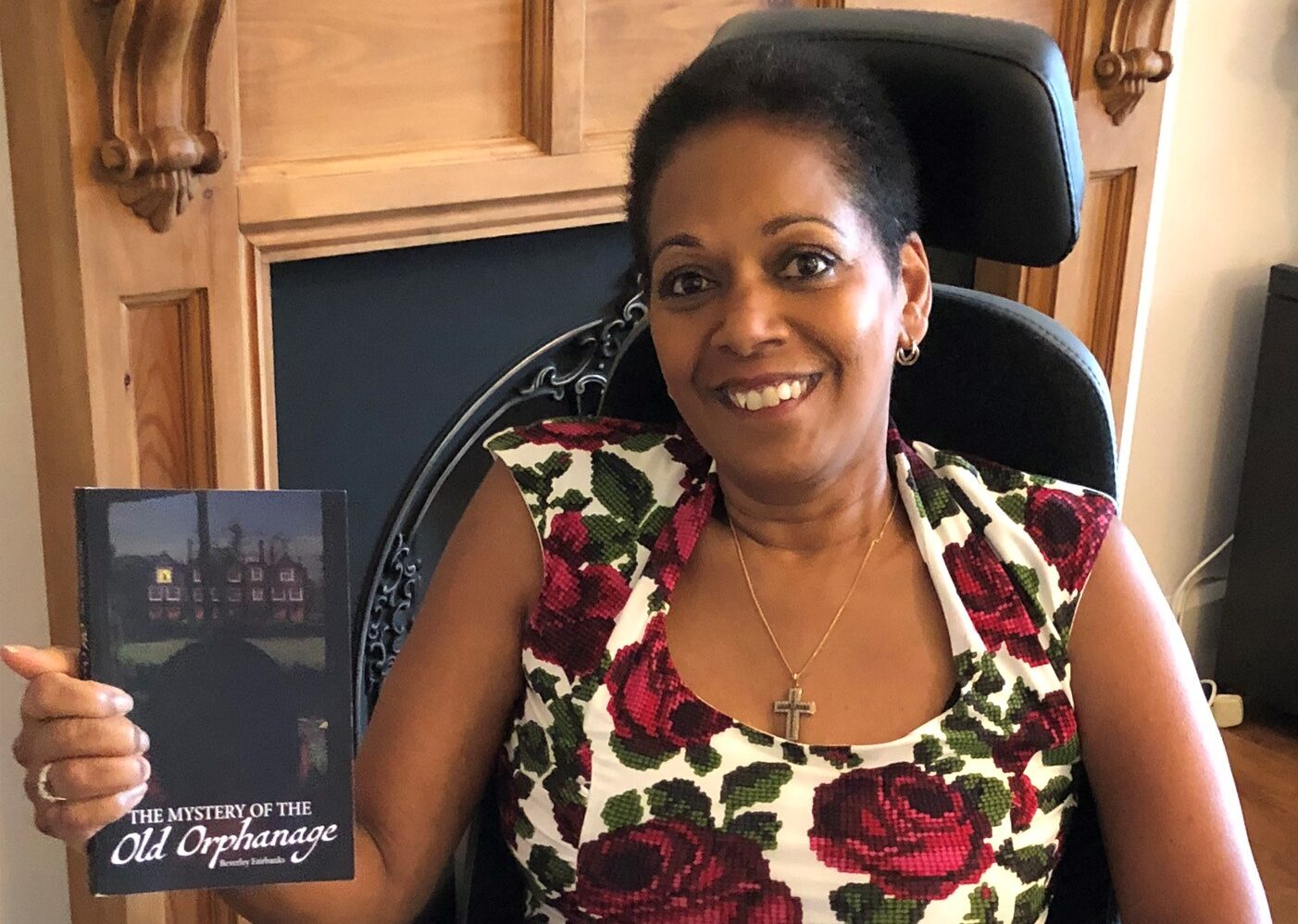 A Nottinghamshire author has published her debut novel despite being diagnosed with a debilitating progressive illness.
Beverley Fairbanks, of Rushcliffe, learnt last April that she had Motor Neurone Disease, which has affected her mobility and speech, but was determined to see her children's novel, The Mystery of the Old Orphanage, in print. Proceeds of the book, aimed at the 8-12 age group, are being donated to Nottinghamshire Hospice and MND research to help others with the same condition.
Beverley, 59, said: "I'm thrilled and proud to see The Mystery of the Old Orphanage in print and delighted that I am able to raise funds to help the hospice through book sales."
Beverley, who worked as a teacher for 34 years, always used her vivid imagination to create stories for children at the primary schools where she taught and for her own son when he was little. On retirement from teaching in 2017 she put pen to paper and wrote the book.
Beverley first noticed symptoms such as slurring of the speech and excessive fluid in her mouth, together with weakness in her left arm and leg. On diagnosis, she was told she had between six months to two years to live, which made her determined to make the most of the time she had left and get her book ready for publication.
Set in Kingminster, a fictional village in Nottinghamshire, the novel tells the tale of 12-year-old Lewis, his dog Truffle and his friend Lupin who stumble across a historic mystery in the tumble-down rectory where Lewis lives. The discovery leads them to unravel a story lost in time.
Before the Coronavirus pandemic took hold, Beverley came to Day Therapy at Nottinghamshire Hospice where she received regular massage treatment to ease her symptoms, and enjoyed meeting others in a similar situation. Last year she raised more than £1,200 for the hospice by holding a coffee morning at Ruddington Village Hall. The money helped fund a new vehicle for the Hospice Night Support service. Now she wants proceeds of the book to come to the hospice too.
Beverley said: "The hospice is a magical place, full of warmth, laughter and amazing staff.  From the moment you walk through the door you feel special and cared for. I wanted to raise money for the hospice because it does such a fantastic job and really enhances our lives."
Rebecca Taylor, Community Fundraiser at Nottinghamshire Hospice, said: "Beverley is an inspiration to all of us at the hospice. We've been so impressed by her determination to see the novel through to publication. I know this book will make a great gift for children in my family and I'm looking forward to reading it myself. Thanks so much to Beverley for all her support for the hospice."
The Mystery of the Old Orphanage is available from Amazon through this link at £8.99 for paperback and £3.99 for e-book.
More details below.
The Mystery of the Old Orphanage
Someone was trying to tell him something; voices, strange noises and a mysterious figure seemed to haunt Lewis in his new home. The old Victorian rectory and the deserted orphanage had a shared secret. In 2019 Lewis finds himself on a journey into the past to right a wrong committed in Victorian England.
Far from being a sleepy Nottinghamshire village, a chance discovery of an old newspaper leads Lewis, his new friend Lupin and his cockapoo Truffle, to unearth the mystery of what happened to James Cooper, a 14-year old Victorian orphanage boy, who's disappearance is not as simple as it seems. 150 years later the old orphanage is being searched, but for what and by whom? Together Lewis, Lupin and Truffle unravel the sinister link between the run-down rectory and the abandoned orphanage.