26th January 2023
Calendar of historic Notts scenes scoops £1K for hospice
Founders of a Facebook community that celebrates Nottingham's cultural history have raised more than £1,000 for the hospice through sale of calendars depicting historic scenes from the city.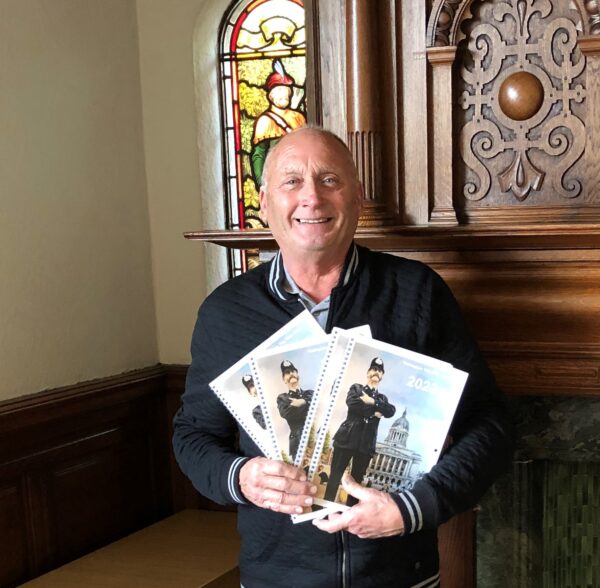 Mal Redman and Paul Bauser, who run the Nottingham Way Back When page, created a calendar using scenes shared on the page, painted in oils or watercolour by their artist friend Gary Waldron.
Mal said: "This is the second year we've done a calendar. We wanted to give proceeds to a charity and we asked for members of the group for suggestions.
"We chose Nottinghamshire Hospice because it's a charity based in the city which benefits local people."
"We have cancer in the family, my mother-in-law has it. This made me keen to donate to a charity like Nottinghamshire Hospice which supports people at the end of their lives.
"The hospice is also a well-established charity based in a historic Nottingham building which is part of the city's heritage. This makes it a good fit for our group."
Nottingham Way Back When
Mal and Paul set up the Facebook page eight years ago and it now has 73,000 members.
Mal continued: "Our friend moved from Nottingham to Blackpool and we started sending him old photos to remind him of home. That gave us the idea of setting up the site. We do it as a hobby. It creates a bit of nostalgia and gets people talking."
The page has brought friends and family members together and reunited people with long-lost family photos. Recently a member of the group shared a 1930s photo of a lady standing next to a tram in the town centre. Someone got in touch to say the lady was her mum.
The calendar
On its title page, the calendar features Tug Wilson (also known as 'Tiny') – Nottingham's tallest policeman, who at 7ft 2 towered over Nottingham's market square for 20 years when it was part of his beat.
There are also images of Victoria Station (1960), a snowy Angel Row in 1909 and a busy scene from Nottingham's Goose Fair in 1927, which then took place in the Market Square. This image also shows the council house mid-construction.
Claire Herrick, Head of Fundraising at Nottinghamshire Hospice, said: "It's wonderful that Mal and Paul chose to support the hospice. They've raised a fantastic amount of money through sales of this beautiful calendar which is fascinating for anyone interested in local history."
Mal has kindly donated copies of the calendar to the hospice, which are now available in our shops. Find your nearest shop here.