12th June 2020
Carers Week: Emma's story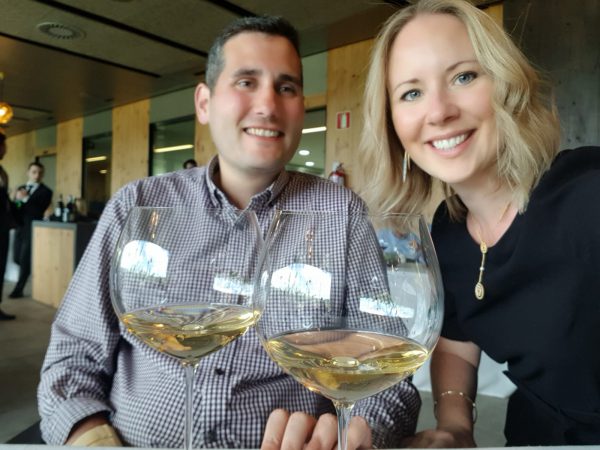 "I felt completely unprepared for caring for Sam when he was diagnosed. With a degenerative disease like MND you have to prepare for the unknown. The hospice reached out to us..."  Emma has agreed to share her story during Carers Week – to highlight the contribution of carers, the struggles they face and the support we at Nottinghamshire Hospice can offer. 
Emma Perkins was just 36 when her husband Sam was diagnosed with Motor Neurone Disease last March, plunging her into a caring role, taking on duties including feeding, toileting, showering and using lifting equipment as well as help with admin tasks and setting up specialist IT.
Since the Covid-19 lockdown, with other support on hold, this has intensified, so Emma and a small network of family members isolating with Sam have taken on extra caring responsibilities including gentle massage, beard-trimming, haircuts and entertainment.
"Having to shield at home has meant Sam hasn't received the physical therapy he normally benefits from – or a haircut!" says Emma. "So we've done what we can to try and replicate those treatments at home, some with more success than others!"
Sam and Emma
Emma, a full-time lawyer, changed her working pattern after Sam's diagnosis and other family members stepped in to provide a rota of support including daytime care, preparing meals, taking Sam out and helping with other duties such as clothes washing. Between them they formed a network of support including Sam's mum, dad and sisters, plus Emma's parents. The couple lived with Emma's dad for four months.
Emma and Sam have found practical and emotional support from Nottinghamshire Hospice invaluable in helping them come to terms with the diagnosis and make the most of their time together. Before lockdown, Sam came to Day Therapy once a week for massage and counselling. The hospice also co-ordinated a visit to a JCB factory so Sam could fulfil a bucket-list dream of riding in a JCB.
Emma said: "I felt completely unprepared for caring for Sam when he was first diagnosed. New equipment, multiple organisations, medical departments and appointments and mountains of paperwork all felt like a whirlwind on top of learning about Sam's diagnosis and what that meant for his and our future. With a degenerative disease like MND, you have to deal with increasingly complicated medical needs but also prepare for the unknown which can often feel overwhelming.
"Early on, the hospice reached out to us and was an open and friendly environment where we could ask questions about dealing with a terminal illness day-to-day. It also offered a positive space to be proactive about the future. We never would have visited the JCB factory without the hospice!
"The hospice has continued to provide counselling remotely during lockdown which has been an invaluable source of support during such a strange and frustrating time."
Sam, who was just 37 when he was diagnosed, said: "When you're in your 30s you don't expect to have to think about hospice care. I knew the hospice was here but had no idea what the care involves. To experience what it does is life changing.
"The support we've received from staff and volunteers at Nottinghamshire Hospice has been phenomenal. Without it we wouldn't be able to continue enjoying life as much as we do."
Like many carers, Emma struggles to have time to recharge, especially during lockdown when she hasn't been able to visit friends or family for a break.
"Guilt is a common feeling for a carer," she said. "You need respite but you know you have limited time with your loved one and want to ensure they get the very best care at all times. This can cause very conflicted emotions. I am lucky that Sam is very understanding, we talk openly about how we are coping and he encourages me to take time out."
Sam paid tribute to Emma's dedication as a carer, saying: "I've had incredible support since my diagnosis, but I would not have been able to find and maintain my positive attitude and determination without the love and support of my amazing wife and main carer Emma. She inspires me to keep going, to look ahead to the future, stay positive and find happiness in every day."
Sam and Emma set up their own charity last year called Stand Against MND (SAM), to raise funds for organisations including Nottinghamshire Hospice and MND research. This week they donated £5,000 to the hospice for Carers Week in recognition of the support the hospice provides to carers.
Emma feels it is important to acknowledge the contribution of carers, both paid and unpaid.
"Unpaid carers are often unseen, and paid carers are in short supply and often undervalued.  Raising awareness helps those who are lucky enough not to have to rely on carers to be more understanding and empathetic.
"Sam is very young to be diagnosed with MND and it would be easy to just be angry about that. Right from the point of diagnosis, it was clear to us that we had significant support and goodwill from friends and family. We decided to take a positive stand against MND and channelled that goodwill into raising funds and awareness.
"We're thrilled to make this donation of £5,000 to the hospice as we've experienced their incredible support first-hand and we know how difficult it is for organisations to fundraise during lockdown. We really look forward to seeing everyone at the hospice again as soon as we can."
Gemma Taylor-Mahon, Fundraising and Marketing Manager at Nottinghamshire Hospice, said: "We are so grateful to Sam, Emma and their family for their unwavering support through what is a strange and difficult time for everybody. The way they have coped with Sam's diagnosis and channelled their energy into doing something positive to help others is truly inspirational."
Nottinghamshire Hospice provides emotional support to carers and family members of people diagnosed with terminal or life-limiting illnesses across Nottinghamshire. You can learn more about the support available here or phone 0115 962 1222 to speak to a member of our team.
The hospice is anticipating a loss in funding of £150,000 due to shop closures and event cancellations during lockdown. It launched its Forget Us Not appeal in April to address this shortfall. Find out more here.