12th June 2019
Carers Week: Enid's story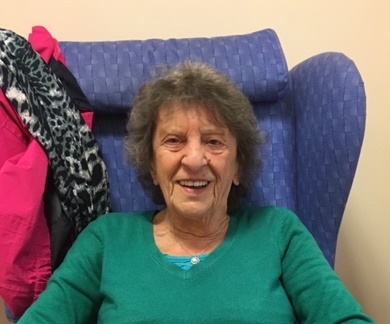 "Caring for someone all the time is like being on a treadmill you can't get off…" Caring for someone with a terminal illness can be exhausting and isolating. During Carers Week we are focusing on how we support carers and sharing some of their stories.
When Enid's husband Ernest became ill with vascular dementia, she  channelled all her energy into caring for him, eventually becoming his full time carer. After he died in April last year, she suddenly realised how exhausted she had become.
"I'd been a 24-hour carer for at least two years," said Enid, 86. "It was very stressful, especially in the night. I was so busy doing everything I didn't realise I was neglecting myself.  A couple of months after he died I hit a brick wall."
Enid came to a bereavement event at the hospice, where she learnt more about the support on offer and realised she needed counselling. She signed up for weekly sessions with a bereavement counsellor.
"It has really helped to have someone unrelated to talk to where there was no pressure to keep everything in. Counselling was the answer, I'd recommend it to anyone." she said.
Enid has also taken part in remembrance events at the hospice including Light up a Life at Christmas and the recent Forget-Me-Not day.
"The hospice is such a lovely peaceful place. It's such a comfortable atmosphere here and the support here is wonderful."
Caring for someone at the end of their life can be extremely stressful. At Nottinghamshire Hospice we provide practical and emotional support for carers. You can find out more about the support we offer here.
This Friday we have our regular Carers Cafe where carers can drop in, chat to our staff and find out about support available. Find out more here.