11th May 2021
Church raises £1K to help the hospice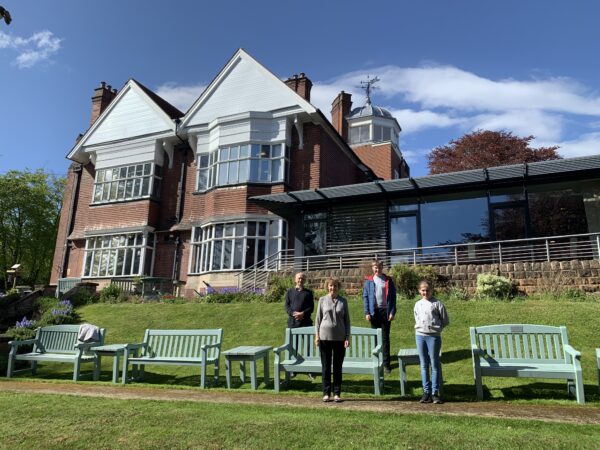 Young members of a Nottingham church who have raised £1,000 for Nottinghamshire Hospice have chosen to light up the hospice tower in memory of two members of their church community.
Children at St Andrews with Castle Gate United Reformed Church on Goldsmith Street made digital Christmas cards for people to send online while the church was closed during lockdown. In return they asked for donations to the hospice, easily smashing their original target of £350.
Jill Gaunt, junior church leader,  suggested Nottinghamshire Hospice because her father Byron Newton received care here before he died two years ago. Byron came to Day Therapy for a few months after being diagnosed with Parkinson's and dementia. He also received Hospice at Home care in his last weeks of life.
Jill said: "Dad liked coming to the hospice, he was not really able to join in with the activities by this time but he was happy to come and see people and look at the beautiful garden. His favourite part of the visit was the delicious dinner and especially the pudding!
"My mum was in her late 80s was his full time carer along with support from family and external services. When Dad went to the hospice it gave her a few hours off duty and meant she could be taken out for lunch or just spend some time on her sewing machine at home without feeling she was constantly on call.
"When it came to the last few weeks of his life we had support from the Hospice at Home. It was the only time my mum would leave the house because she felt so happy with the hospice nurse looking after him. It also gave us confidence to keep him at home and care for him ourselves, which is what he wanted."
Another member of the St Andrew's community, Marilyn Ash volunteered at the hospice every Wednesday, chatting to patients and helping to run activities. Marilyn died suddenly last year.
Jill, her husband Richard, who is junior church coordinator, and a small group of the children came to the hospice earlier this week to watch the light being switched on.
Jill said: "It was great to see the light switched on and to think that it will be shining out across the city when it gets dark. We are proud to be able to support Nottinghamshire Hospice as it is a local charity which provides such vital support to families who have someone with life-limiting illness."