1st March 2022
Circular fashion clothes swaps benefit Notts Hospice
Two women whose clothes swap events save thousands of items from landfill have teamed up with Nottinghamshire Hospice to put on a series of swaps this year, starting this Saturday.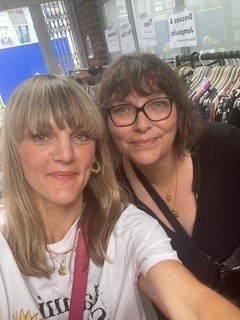 Sarah Jackson and Zoe Summeyer –  both passionate about sustainability – joined forces last year to organise two size-inclusive clothing swaps at The Avenues Independent Market, Sneinton, donating any unswapped items to the hospice shops.  These events put 1,500 items of clothing back into circulation.
This year they plan to double that by holding five swaps, kicking off with an indoor event at Nonsuch Studios on Lower Parliament Street on Saturday 5th March. They quickly sold out of the 60 tickets on sale.
Attendees can swap up to ten items. They drop clothing off earlier in the day to be sorted and can then enjoy the Nonsuch sustainable market and grab a drink before returning for the event itself. Any items not snapped up are donated to the hospice.
Sarah, a fashion buyer and fashion business lecturer at Nottingham Trent University, said: "The swaps are all about circular fashion and making sure nothing goes to waste. What we love about it is that at the end, everything goes to the hospice. We couldn't do the swaps without Notts Hospice. It's the perfect collaboration."
Zoe, an arts officer and trained textile designer, wanted to put on plus-size clothing swaps. She reached out to Sarah who was already running swap events, and they decided to collaborate.
"I volunteered at one of Sarah's events and saw how fantastic it was," said Zoe. "I'm plus size and wanted to set up a similar event that was size inclusive.
"Size inclusive events are rare. Now we've merged, we're able to offer size eight to 28."
Last year's swaps were timed to coincide with Sneinton Avenues market days so customers could also browse the market, increasing footfall to the independent businesses in the area.
"Holding the events on market day was a real plus for the people who came because they could drop items off then look round the market and the small businesses and independent traders in the area so it was good for local businesses too," added Zoe.
High quality items – including a brand-new wedding guest outfit, and clothing still with their tags on, were among the items brought along last year. There was also plenty of vintage – Sarah's favourite was an 80s shoulder-padded jumper. Clothes donated to Nottinghamshire Hospice afterwards had a resale value of more than £1000 per event.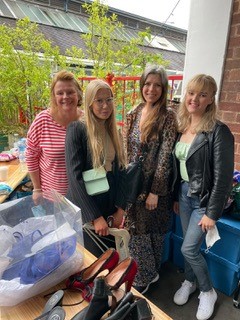 A team of volunteers help out at the events alongside Jayne Daniels, Retail Support Manager at Nottinghamshire Hospice (pictured left, above) who forged links with Sarah and Zoe initially.
Jayne said: "We're really excited about this partnership. Clothes swaps are growing in popularity as people are more aware of the damaging effects of fast fashion. They not only give clothing a new lease of life. They are also great for the hospice because the items donated to us afterwards have a high resale value."
Trailblazing sustainable fashion
News of Sarah and Zoe's events is spreading as social media influencers and swap organisers from London and other cities have got in touch. Swappers from as far afield as Sheffield, Leicester, Birmingham and Lincoln have travelled to their events.
The trend is in line with the growing second-hand revolution among environmentally friendly Gen-Z and millennials.
"There has been a big change in perspective on consumerism," added Zoe. "Keeping clothes circular and not buying new is one of the best ways of being sustainable. As well as diverting items from landfill it saves resources used in production. There's a massive amount of natural resource used to grow, make and ship clothing."
Other plans for the year include a pilot swap for men's clothing and possibly a family event including children's items.
Nottinghamshire Hospice is always grateful for good quality donations for its ten shops. By giving not binning things you no longer use, you'll be converting your donations to hospice care, as well as reducing landfill and protecting natural resources. Find out more here.