12th November 2020
Companies pledge £15K to boost frontline services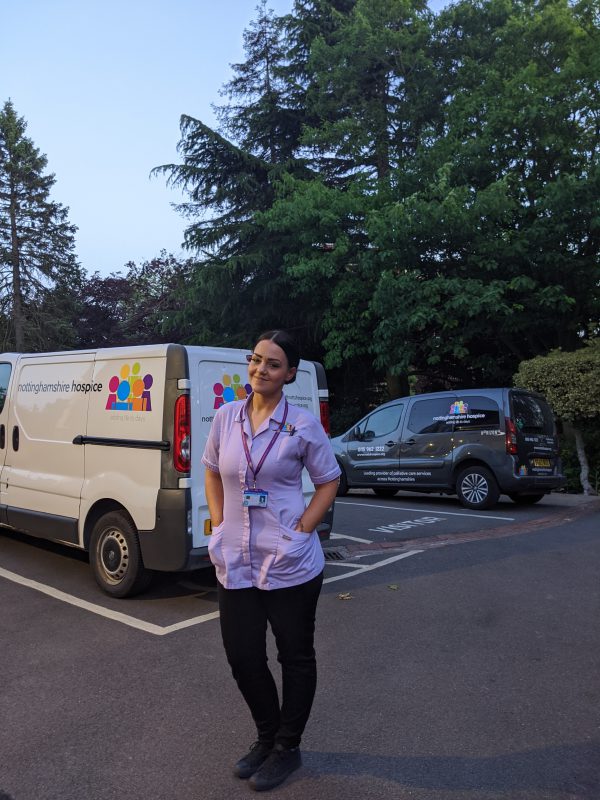 Nottinghamshire companies have pledged support totalling £15,000 towards the cost of a palliative nurse for a year as part of a Big Give match-funding campaign.
The money pledged will match-fund online donations made through the Big Give platform next month and will support the Hospice Outreach and Discharge Support service – introduced in response to the Coronavirus pandemic.
Corporate support
Water company Severn Trent has awarded a grant of £5,500 from its £1 million Emergency Fund set up to help communities and charities through the pandemic. It donated half the money to groups on the frontline helping communities and kept the other half million for a Recovery Fund to help charities back on their feet.
Natalie Cunningham, Fund Officer for the Severn Trent Community Fund said: "We knew when the virus hit and we went into lockdown that our communities would need help, which is why we created our Emergency Fund.
"When we were approached to pledge funding to Nottinghamshire Hospice for the Big Give campaign, giving them the opportunity to quadruple the money and fully fund a palliative nurse for a year, we knew we needed to help!
"We're truly proud to support Nottinghamshire Hospice who throughout these difficult times have continued to provide vital support, specialist care and a beacon of hope for terminally ill people across Nottinghamshire and their families."
Finance company Capital One have pledged £7,500 towards the campaign. Their donation is the latest in a series of measures of support for the hospice throughout the last decade.
Since 2012 the company, which has 900 employees at its Nottingham base, has sent teams to volunteer in the hospice garden, taken part in a Bubble Rush and other fundraising challenges, sponsored a robin sculpture during the Hoodwinked 2018 sculpture trail and paid to light up the hospice tower for a night before Christmas.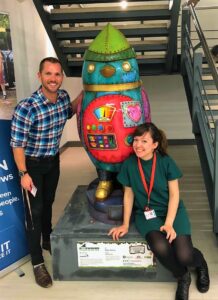 Head of Corporate Responsibility, Dave Richards – pictured above with colleague Marta Torner – said "Capital One are committed to supporting the local communities we live and work in. As a charity close to our Nottingham office, we recognise the care and compassion that Nottinghamshire Hospice bring to local people, and we are proud to have worked with them for many years on a variety of initiatives."
Law firm Eversheds Sutherland have pledged £2,000. The global company, which employs 80 staff in Nottingham, has for many years supported the hospice through volunteering. Each year the firm runs a placement scheme for law students and as part of this has organised sessions for the trainees to carry out decorating or gardening work at the hospice.
Kelly Barton, Corporate Social Responsibility Manager at the Nottingham office, said:
"Our colleagues who have volunteered in the hospice have absolutely loved it. It's nice to do something physical that gets you out, where you can see you are making a difference. It's been sad that we've not been able to volunteer with you this year due to the Covid situation, so we wanted to do something else to support the hospice instead. When I found out about the Big Give Campaign colleagues were delighted to support and with our match funding scheme we were able to donate £2,000."
Kelly has seen first-hand the benefits of palliative care when someone close to her passed away from cancer. This had made her value the care the hospice provides even more. "The hospice is a local charity and we're proud to support it," she added.
To top up the money pledged by companies, Big Give charity funders The Hospital Saturday Fund have awarded £5,000 – bringing the total raised in Phase 1 of the appeal to £20,000.
Tori Harrison, Individual Giving Fundraiser at Nottinghamshire Hospice, said: "We're so grateful to all the companies who have pledged support. Through the Big Give we will be able to double generous donations and fund a nurse for a year."
There are further opportunities to support the hospice in Phase 2 of the Big Give appeal, due to launch in December. Anyone wanting to pledge a major gift should contact Tori Harrison 07812096016 email: tori.harrison@nottshospice.org