25th May 2022
Couch to 5K runners raise £1K
Individual Giving Fundraiser Paul Hawkins led by example when he set a Couch to 5K running challenge for himself and others in February.

Paul led the group in weekly training sessions, working up to running a 5K race at the Embankment last week.
They more than smashed their original target, raising more than £1,000 to help the hospice.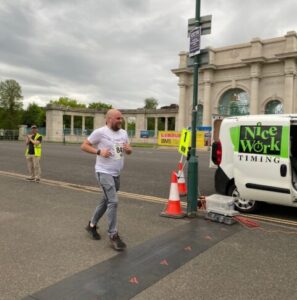 Paul, pictured above,  said: "I've attempted Couch to 5K several times before but always dropped out for various reasons. This time, with the support of the group and fundraising for the hospice to motivate me, I got there!
"I'm so proud of everyone for completing the race and for raising this fantastic amount which will fund three nights of care in a patient's home.
"A huge thank you to everyone for running with me and completing the 5K – you were all amazing!"
Sarah Nolan took up running during lockdown but got out of the habit during the last year. Doing the challenge got her up and running again.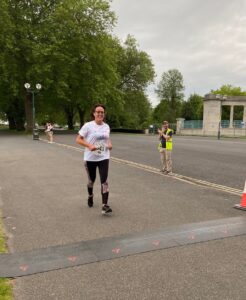 Sarah said: "I signed up to run 5K to raise funds for the hospice as I know that they provide much needed care and support for patients and their families and I wanted to support them.
"I genuinely got so much out of it; I met some amazing people who work for the hospice, I raised more money than I expected to, and I really enjoyed the training sessions.
"I would say to people considering taking on a challenge for the hospice, go for it!! You are doing something for a really worthwhile cause and you will get something out of it too. You may be like me and think that you can't run, but give it a go, you may surprise yourself and end up hooked!"
If you'd like to take on a challenge or fundraise for Nottinghamshire Hospice, there are lots of ways to get involved. Find out more here.