21st October 2021
DHU Health Care donates £500 to Bryan's marathon fundraiser
Bryan Hucknall, who ran the London Virtual Marathon dressed as Superman in memory of his mum, has now raised more than £2,200 for Nottinghamshire Hospice, topped up by a generous £500 donation from his employer DHU Health Care.

Bryan, who is head of the Project Management Office at DHU, ran the marathon despite having severely reduced lung capacity as a result of catching Covid last year.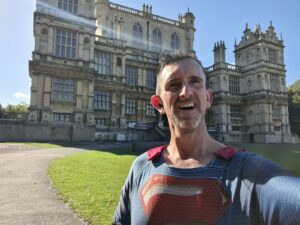 Stephen Bateman, CEO of DHU Health Care said: "Completing a marathon is a challenge at the best of times, but doing one under such difficult circumstances is a tremendous achievement. Bryan really displays our values with the effort he has made to raise money for Nottingham Hospice and we are proud to support a cause which is so close to his heart."
Bryan's mum Anne received care from Nottinghamshire Hospice at home before she died last year. This care enabled her to spend her last days in her own home with family around her.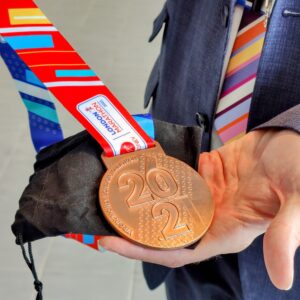 Bryan said: "My first ever marathon was a tiring, fun and emotional run.  It was in memory of my mum to raise money for Nottinghamshire Hospice who helped care for my mum in the last few weeks of her life and a distance I'd never attempted – even before COVID had damaged one of my lungs!
"Thank you to everyone who supported, sponsored and believed in me. I'd especially like to thank my workplace DHU Health Care for sponsoring me £500 and Nottinghamshire Hospice for getting so much media exposure to help between us all raise over £2,200 for the Nottinghamshire Hospice. I'd definitely do it again, in fact I've already entered the London Marathon 2022 ballot – so fingers crossed!"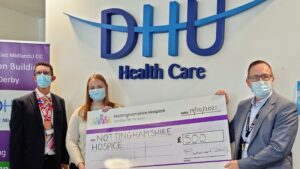 Rebecca Taylor, Community Fundraiser at Nottinghamshire Hospice (pictured above with Bryan and Stephen), said: "We're so grateful to the team at DHU Health Care for supporting Bryan and the hospice. Their donation will help us care for more patients in those last weeks of life and support their families. It means a lot to us to receive this sort of recognition from another leading healthcare provider.
"We're really impressed and grateful to Bryan for his amazing achievement."
If you fancy taking on a challenge for Nottinghamshire Hospice, or if your company is looking for ways of giving back to the community, there are lots of ways to get involved. Find out more here.