16th August 2022
Dog show promises a pawsome day out
Pugs, poodles and Pomeranians will be among hundreds of canines expected to lead their owners along to the Nottinghamshire Hospice Dog Show on Monday 29 August.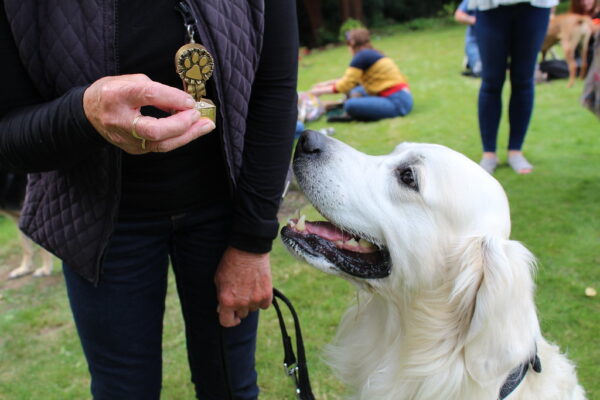 Prizes will be awarded for the waggiest tail, most handsome dog, prettiest bitch or the best dressed pooch, as well as for the dog that looks most like its owner. Winners in each category will then compete for best in show.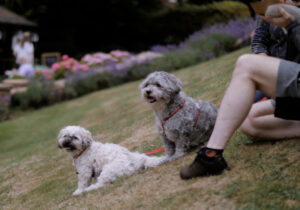 Penny Russell, Area Retail Manager at Nottinghamshire Hospice says: "Before the pandemic our dog show was one of our most popular events so we're really excited to be holding it again this year.
"Whether you're a Heinz 57, a pedigree or a cross-breed, make sure you lead your human down to the hospice on bank holiday Monday for what will be a fun day out for all the family – including the owners!"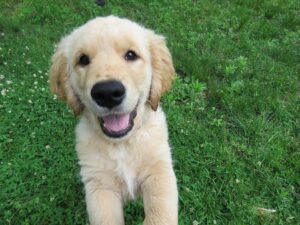 There will be plenty of doggy treats for guests to get their canines into, plus hot dogs and other refreshments for the humans. There will also be stalls selling pet related products, plus games and activities for guests to take part in with their four-legged friends.
Previous dog shows at the hospice have seen more than 200 dogs walk through the gates and raised crucial funds to benefit end-of-life patients, their carers and families.
Among former winners is golden retriever Jimmy Grimble whose owner Gayle – pictured below  – has had links with the hospice since 2013 when our Hospice at Home nurses cared for her husband before he died.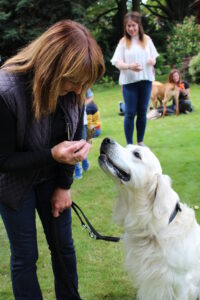 "I wanted to say thanks for all the night-time help you gave me when I was caring for my husband and not able to get any sleep myself. My husband died in May that year so it meant a lot to be able to give my support by coming to the dog show.
"Jimmy Grimble and I thoroughly enjoyed the day and hopefully will be able to join you again this year."
Timings
The event runs from 11am – 3pm at Nottinghamshire Hospice, 384 Woodborough Road, Nottingham, NG3 4JF. Gates open 10.30am for registration. To enter just turn up on the day.
Admission is just £1 for adults and children under five go free. To enter a show category, it's £2 per category per pet.
Each category will run twice times, with the winner from each round going through to their category final when the top dog will be chosen.
Category timings are:
11.15 – Waggiest Tail
11.30 – Dog Most Like its Owner
11.45 – Most Handsome Dog
12.00 –Best Looking Bitch
12.15 – Best Dressed
12.30 – Best Trick
13.00 – Waggiest Tail
13.15 – Dog Most Like its Owner
13.30 – Most Handsome Dog
13.45 – Best Looking Bitch
14.00 – Best Dressed
14.15 – Best Trick
14.35 – Best in Show
Places will be allocated on a first come first served basis. Entry will close 15 minutes before each category start time. Guests are advised to arrive early to avoid disappointment.