26th August 2020
Folk fiesta brings in funds to help the hospice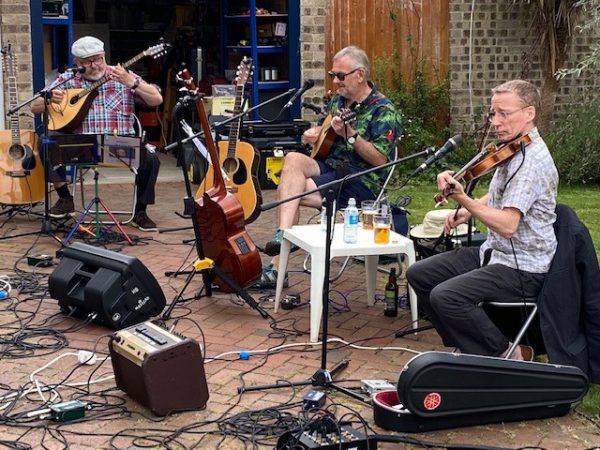 A group of neighbours in Radcliffe on Trent put on a distanced street gig which raised £550 in donations for Nottinghamshire Hospice.
Norman Randall, who plays guitar and Irish bouzouki as well as singing in Nottingham folk band Higgs Bo'sun, had the idea of putting on an event for charity along with other residents of Oaktree Avenue who had got to know each other better – in a distanced way  – during lockdown.
Residents aged from 9 months to 90 turned out to watch the six-piece band perform jigs and reels and folk classics in a two-hour afternoon set, after which they passed the hat around for the hospice.
Neighbour Mary McCarthy said: "We were wondering which charity to support, then we read an article in the Nottingham Post about the hospice needing funds. After we read up about all the things the hospice does, that made up our minds. We were amazed at the amount people donated, we never thought we'd get that much.
"The event was great fun. Everyone joined in from their doorsteps. Some of the residents had family and visitors over so there were about 50 people. It was a brilliant atmosphere."
Residents set up a street WhatsApp group at the start of lockdown which enabled them to organise the event. As well as obtaining a temporary events licence from the Borough Council, they leafleted the area to promote the gig and spread the word about the hospice.
After the event they surprised staff and volunteers at the Nottinghamshire Hospice shop in Radcliffe when they brought in the donation.
Nottinghamshire Hospice Retail Manager Colette Priest  said: "It was an extremely nice surprise to be chosen as the recipient for the money they raised in their fundraising extravaganza. It's another great example of community spirit in Radcliffe."
Nottinghamshire Hospice is anticipating a loss in income of £150,000 this year after shop closures and cancelled events due to lockdown. By pledging a small regular gift you can help us secure our future. Learn more here.