25th July 2023
'Duncanfest' gig raises £800 for the hospice in memory of much loved partner
Kirsty Fox was just 38 when her partner Duncan died of an aggressive form of brain cancer last year. Now she has raised £800 by putting on a charity gig in his memory as a thank you for his care.

Duncan Vaughan was diagnosed with Glioblastoma multiform – a fast-growing brain tumour – in 2018. After undergoing surgery and further treatment he was given the all-clear, but his cancer later returned and early last year he learnt his condition was terminal.
Duncan initially came to Nottinghamshire Hospice's Wellbeing unit for massage therapy and was offered emotional support. As his condition worsened, he was referred for Hospice in your Home care which included regular visits from healthcare professionals to help with his care needs and relief carers at night so his partner, Kirsty, could get some sleep.
Spending his last days at home
Kirsty said: "I couldn't have kept Duncan at home without the support of Nottinghamshire Hospice. The care ensured he could spend his last days in the home he loved with family around him.
"We had district nurses visiting (who were also amazing) to administer medication and help with emergency care, but it got to a point where I needed more help and expertise.
"A light in the dark."
"It made a big difference just having people to guide you through the process of death-by-terminal illness. It's not something society often discusses, so it's reassuring to be in the hands of people who understand exactly what's happening with a patient's health, treat them very much as an individual person and ensure pain and discomfort are minimised.
"I can't thank the care team enough. They really were a light in the dark, holding my hand through everything."
Complementary therapy
She added that the massage therapy Duncan received at the hospice also helped him cope with the debilitating effects of his illness.
"Duncan didn't like taking medication much because of the side effects but the physical therapy really helped with pain management and symptoms."
Support with grief
Kirsty also received bereavement support at the hospice after Duncan died.
"I was 38 when Duncan died, which is young to be widowed. I was helped by the counselling sessions I had at the hospice," she added.
"Before Duncan was diagnosed I knew of Notts Hospice already due to their excellent charity shops but I didn't know much about what they did. I very much recommend support from Nottinghamshire Hospice to anyone in the situation we were in."
Musical tribute
Kirsty teamed up with some of Duncan's friends to host a charity gig at Nottingham's Chameleon Arts Café on Friday 14 July to raise funds for the hospice and two other charities. 'Duncanfest' – timed around the anniversary of his death – was a 60s and 70s themed night with local bands and DJs spinning retro tunes. Acts included Connexion Man, Rattle, Grawl!x and Nick Jonah Davis.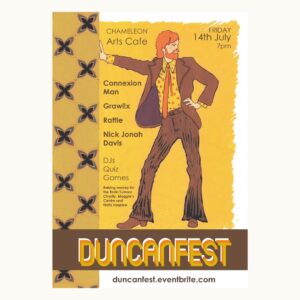 "Duncan was a quiet eccentric with a fondness for 1960s and 70s clothes and music, so this was a way to remember him while raising money for the charities that helped us." Kirsty added.
"Rather than dwell on sadness, we wanted to celebrate all the things Duncan loved."
At Nottinghamshire Hospice we provide crucial end-of-life care for people with life-limiting illlness across the whole of Nottinghamshire, as well as support for their loved ones. If you'd like to help us raise funds to support these vital services, there are many ways to get involved. Find out more here.