12th November 2020
Fearless fundraiser takes the plunge for Notts Hospice.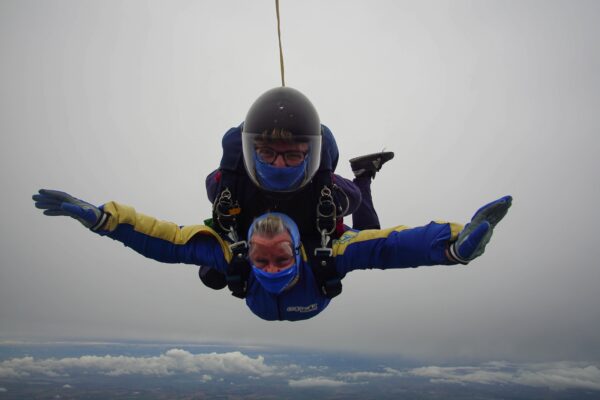 Chris Hobbs started facing her fears a few years ago when partner John taught her to swim. Since then there's been no stopping her. First she had a go at paragliding, then she jumped out of a plane in aid of Nottinghamshire Hospice.
In July, Chris, 73, took the plunge at Langar airport, skydiving from 15,000 feet, freefalling for the first 50 seconds at speeds of up to 120 miles per hour.
Chris, inspired to fundraise because her partner's former wife and her own mother received care from the hospice, said: "I can't believe I was that brave – when I saw the video of me doing the skydive I didn't recognise myself!
"I wasn't really scared when I went up. I was a bit shocked by the cold when we first stepped out, but after that it was amazing! I'd like to do it again!"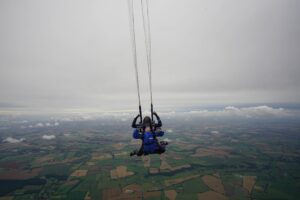 Not content to bask in the glory of her parachute jump, now Chris wants to sign up for a wing walk!
"I never used to do anything like this, but I got braver when I learnt to swim better," she added. "Now I feel like I can tackle anything!"
Chris, who has three daughters, seven grandchildren and two great-grandchildren, says all her family are proud of her. She has so far raised more than £340, with more to come.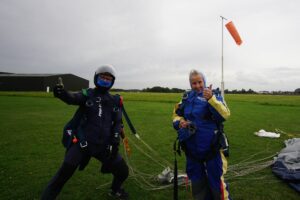 Rebecca Taylor, Community Fundraiser at Nottinghamshire Hospice, said: "We're so impressed by what Chris has done – she's so brave. We're really grateful that she chose to support Nottinghamshire Hospice."
If you'd like to take on a challenge or fundraise for Nottinghamshire Hospice, there are lots of ways to get involved. Find out more here.