30th August 2023
Fearless fundraisers take the plunge in charity skydive
A bunch of dare-devil supporters are taking a leap of faith for Nottinghamshire Hospice at Langar Airfield.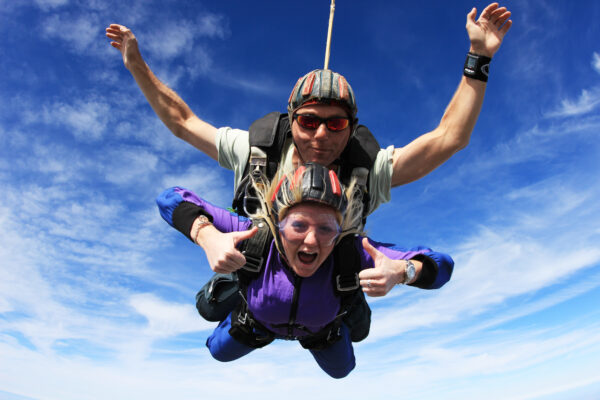 On Saturday 9th September, five thrill-seeking fundraisers will jump out of a plane at 10,000 feet and freefall at 120 mph before parachuting to earth.
The event is expected to raise more than £2,000 for the hospice.
Wendy's story
Wendy Isaac, a Senior Healthcare Assistant from the Hospice in your Home team, signed up because she's passionate about the work of the hospice.
Wendy, who works nights caring for patients in their homes, said: "I want to support the hospice because I love what we do. I find it so rewarding to be able to spend quality time with patients."
"The scariest thing I've done."
No stranger to fundraising, Wendy, who has run the London Marathon three times and done a head-shave for charity, says this is her most daring challenge yet.
"I must admit, I'm feeling a mix of nerves and excitement. This is the scariest thing I've done, but I'm looking forward to it."
Wendy has already smashed her £400 fundraising target.
Will's story
Will Hucknall took on the skydive in memory of his grandma who received care from the hospice.
Will said: "I'm really excited to be doing the skydive. It's been a bucket list item for a few years, so to get the opportunity to do it and to raise money for an incredible cause is amazing.
"The hospice allowed my grandma to die in her own home, in peace surrounded by family. This made the world of difference to us as a family because it allowed us to be with Grandma in a familiar environment.  When I learnt about the opportunity to support the hospice by doing something exciting it sounded like a perfect combination."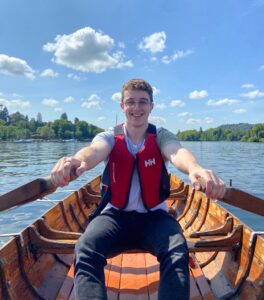 Seasoned thrill-seeker
This won't be Will's first adrenaline-fuelled adventure. While at school he took part in a Royal Navy simulation exercise in Portsmouth in which a sinking ship is attacked by submarines.  This involved being held under ice cold water and plugging holes in the hull while the deck filled up.  He's also been trekking in the Borneo jungle and stood on the edge of an active volcano.
Will is well on track to smash his £600 target.
Taking on a challenge
Becky Sills, Community Fundraiser at Nottinghamshire Hospice, said: "We're so grateful to all these brave fundraisers for their support.
"People tell us that taking on a challenge like a skydive is a really rewarding thing to do, whether it's in memory of a loved one or to meet a personal goal.
"If you'd like to sign up for a challenge to support the hospice, or create your own fundraising activity, get in touch!"
We rely on the generous support of local communities to raise the funds we need to provide our services. If you'd like to support Nottinghamshire Hospice, there are lots of ways to get involved. Get in touch on fundraising@nottshospice.org or find out more here.