31st August 2023
Grief Appeal helps boost bereavement support
As the Grief Appeal draws to a close, we're delighted to report that we have expanded our bereavement offer to meet growing demand.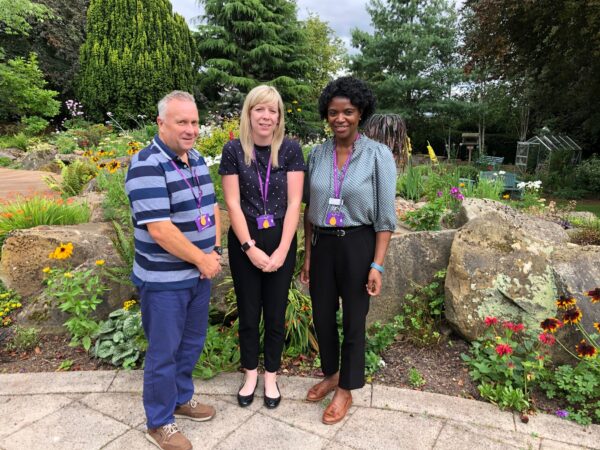 Nottinghamshire Hospice has recruited new staff, started a drop-in group for bereaved people and drawn up plans to reach out into other areas of Nottinghamshire.
Bereavement Buddies
The team has set up a new support group at the hospice for those experiencing grief and sadness after losing a loved one to illness.
'Bereavement Buddies' is a peer-support group which takes place on the first Monday afternoon of each month.
The group enables bereaved people to chat to others in a similar situation in a safe and supportive environment. There's no need to book, just drop in.
Bereavement pop-up sessions
The team also plans to set up drop-in sessions in other areas, starting in October. The first sessions are expected to take place in Clifton and West Bridgford, with plans to expand across the whole of Nottinghamshire.
New counsellors
The hospice has also recently welcomed three new qualified counsellors to the team.
Chris Greenfield, Lisa Goodinson and Ruth Foster (pictured left-right, below) all previously volunteered with the team and came to the hospice on placement while completing their counselling qualifications.
Lisa
Lisa wanted a career change after a background in PA and secretarial work, so she retrained as a counsellor. She says: "I started volunteering for a bereavement charity and was really inspired to help others. Loss touches all our lives in some way so it's important work. Everyone I've met here at the hospice is inspiring and it's amazing to be a part of it."
Ruth
Ruth relocated to Nottingham from London where she worked in a medium secure unit in a mental health trust. This sparked her interest in becoming a counsellor.
Ruth says: "I lost my own sister at the beginning of the year. That gives you empathy and an understanding of how difficult it is coming to terms with losing someone close. I love it here. You think that a hospice might have a heavy atmosphere but it's not like that at all."
Chris
Chris joined the hospice after a 25-year career in mechanical engineering at Severn Trent.
Chris says: "After I retired I wanted to give something back. I have received bereavement counselling in the past and that showed me how wonderful it is."
Thank you!
Debbie Hastings, Bereavement Support Services Manager, says: "We're really grateful for all the support which has enabled us to expand our services, appoint new people and offer additional support to grieving people.
"It's absolutely brilliant to have new counsellors in post to support our services. It means we can reduce the waiting list and help more people."
The death of someone close can be devastating and can bring about overwhelming emotions. Nottinghamshire Hospice provides free counselling and emotional support for those grieving the loss of a loved one. Find out more here.