22nd June 2022
Hospice care adds life to days for devoted couple
When Frank Shaw delivered a eulogy at his wife Joan's funeral, he started with the words "I'm going to tell you a love story."  Nottinghamshire Hospice played its part in that love story by enabling Frank and Joan to be together at home at the end of her life.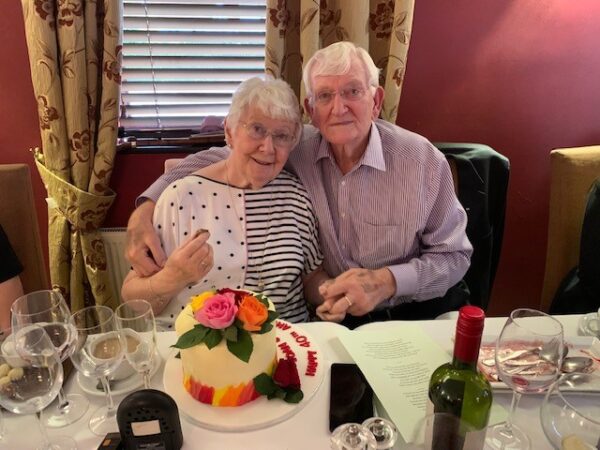 Hospice care helped Frank look after his beloved wife Joan in their Gedling home at the end of her life before she passed away in February.
The couple, who had been together 42 years, had rarely spent time apart, so when Joan was taken into hospital last year Frank found it very hard being apart from her and wanted to bring her home.
Joan had been treated successfully for Breast Cancer in 2016 but two years later developed another tumour and after undergoing chemotherapy, radiotherapy and two mastectomies, she learnt her illness couldn't be cured.
Referral
The couple were referred to Nottinghamshire Hospice by their GP, Vanessa Doel, who is a Trustee at the hospice. They initially came to the GRACE unit last year, until Joan became more poorly and was admitted to hospital.
During her 12-day hospital stay, Frank visited several times a day but developed shingles through stress. The hospice stepped in with a care package which enabled Joan to come home and spend the last few weeks of her life with Frank at the home they'd made together.
Frank said: "Without the hospice I don't know how I would have coped. When my wife came out of hospital we wouldn't have been able to manage without the hospice care. It enabled me to bring her home.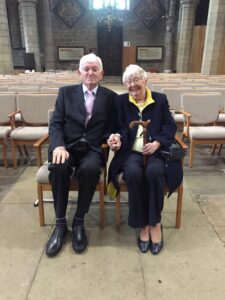 "We had two carers come four times a day and on two or three occasions we had nurses who stayed all night when I was getting tired. It allowed me to get some rest.
"Joan fought hard, she was very stoic. We lived the best life we could, Covid permitting, and the hospice helped us enormously. The main thing was that we were together."
Close relationship
Frank and Joan – who met at work and celebrated their 40th wedding anniversary last October – had a very close relationship and it was especially important that they were able to be together until the end.
"I never left the house for over two weeks as I was looking after her. We were never apart. We loved each other up to the hilt. We never had an argument. We had differences of opinion but we just agreed to differ," Frank added.
"We had such a special relationship. Even strangers sensed it."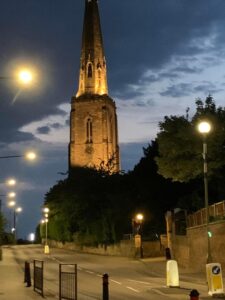 When Frank and Joan married in 1981 they weren't able to have a church wedding because Frank was divorced. Earlier this year they were given a blessing at All Hallows Church in Gedling where they renewed their vows. After Joan died, the church tower was lit in her memory.
When the couple came to the GRACE unit last year, Joan started creating a piece of pebble art which reflects their special relationship, it depicts two figures with the words 'Together Forever.' Hospice Therapy Assistant Maggie finished off the piece to give to Frank.
"Joan was very creative and loved doing artistic things. The pebble art is very precious to me as it reminds me of Joan and it sums up our relationship," Frank said.
Previous visits to the building
When the couple came to the unit it was the third time Frank had been to the building. He first came as an electrician's apprentice in 1953 when the house still belonged to the Player family.
He next visited as a Special Constable in the late 1970s when he apprehended a burglar seen smashing one of the curved windows in an attempt to gain entry.
Frank said: "I was familiar with the building interior and the wood panelling, having visited on those two previous occasions. But when I first walked into the GRACE unit with Joan the thing that struck us most is what a cheerful place it is. All the staff are really friendly.
"You might expect a hospice to be a miserable place, but it isn't like that at all."
Now Frank, who himself has an incurable degenerative illness  – axonal peripheral neuropathy which causes numbness and tingling in the feet or hands and muscle weakness –  comes to the hospice for regular massage treatment to help his symptoms.
He has also started coming to the GRACE unit again.
"The massage treatment relaxes my legs, and coming to the GRACE unit keeps me occupied," Frank Added. "I'm lost without Joan. She gave me life. But coming here gives me a chance to talk about her.
"The hospice is a fantastic place. The whole organisation is marvellous."
Rachel McCarty, Director of Care at Nottinghamshire Hospice, said: "We're so pleased that our care enabled Frank to continue looking after Joan at home, and that we are now able to help Frank with his own symptoms and with his grief.
"Frank and Joan's story illustrates how our services work together to help families. Early referral meant the couple could benefit first from our Therapy and Wellbeing services here at the hospice and later receive Hospice in your Home care when they needed it.
"We're proud to have played a part in their story."
At Joan's funeral, Frank invited mourners to make a donation to Nottinghamshire hospice.
We're proud to be the leading provider of palliative and end-of-life care services in Nottinghamshire. We provide compassionate care in patients' own homes and support for their families, plus therapy and wellbeing services at our GRACE unit.  Find out more about our care services here.