6th October 2022
Hospice care week: FAB fundraiser benefits hospice
During Hospice Care Week, we're focusing on stories which illustrate how we're linking up with communities in the city and county. Today's story features our links with the Friends and Bredrin prostate cancer support group.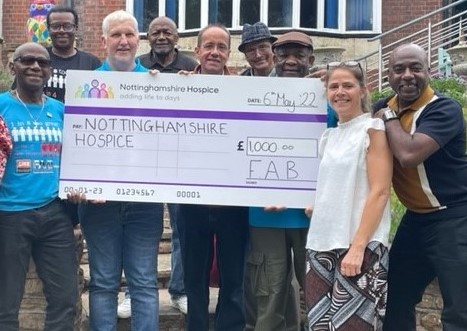 Friends and Bredrin (FAB) – a group set up to raise awareness about the increased risk of prostate cancer in men of African and African Caribbean heritage – has donated £1,000 to the hospice, with plans for some joint fundraising activity in the future.
The group – founded 10 years ago – holds monthly support meetings in premises close to the hospice on Woodborough Road and learnt more about the organisation through word of mouth.
Increased risks and cultural barriers
Trustee Dr Des Powe said: "Our community are at double the risk of prostate cancer compared to white Europeans and when we opened FAB it was apparent this important message was not reaching men at most risk.
"We rapidly became aware there was a cultural barrier to discuss prostate cancer so we initiated a self-help group where men can talk openly about their experience and concerns."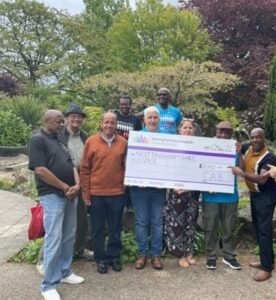 Today, FAB welcomes all men with prostate cancer regardless of their cultural heritage.
"While the treatment for prostate cancer continues to improve, sadly there are still instances where the disease spreads and becomes terminal, so patients and their families may turn to the hospice for end-of-life support and palliative care," Des added.
"Nottinghamshire Hospice is perfectly placed in the city to provide this care and they share similar values to FAB in creating a friendly and welcoming support environment."
As well as raising awareness, FAB fundraises through various activities and – until Covid struck – regularly entered a team 'Team Riderzz' in the annual Nottingham Cycle Live event.
"We like to share some of the funds we raise with organisations that complement and improve support for men with prostate cancer," said Des. "We recognise and value the important role Notts Hospice serves, and want to formally say 'thank you' by means of a donation."
Hospice Care Week runs from 10 – 14 October and focuses on hospice care nationwide. This year's theme is opening up end of life care for all, so we're sharing stories about how we're linking up with communities in our area. Check out our news section for more stories.