9th October 2019
Hospice Care Week: Phil's story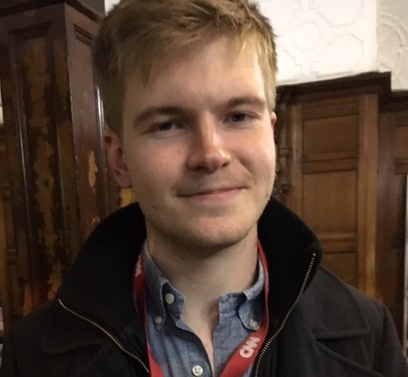 During Hospice Care Week we are looking at what it takes to provide our services and sharing some of our patients' stories. Today's focus is our Hospice Night Support service and we bring you Phil's story.
Phil Rech was treated for tonsil cancer in 2014 but the cancer returned three years later. He became seriously ill on Christmas Eve and was taken into hospital.
While there Phil, a landscape architect from East Bridgford, suffered a severe cardio embolism and realised he did not have long to live. He was keen to be at home with family around him so Nottinghamshire Hospice put in place a care package to support the family including Hospice Night Support.
Phil died at home three weeks later, aged 63.
Phil's wife Bridget, 60, says: "I believed when we left hospital we'd have to manage on our own as a family so it was wonderful to find this service we could call out when we needed to. It was lovely to know you weren't alone.
"I was sleeping in the dining room with Phil but it was very daunting to face a whole night ahead when he'd wake in pain. I mistakenly thought I would be able to be with him 24/7 but you soon realise you just can't sustain that.
"It made life very much easier for myself and my three grown-up children. It's such a weird situation to be thrust into and the hospice service was invaluable. The first time the nurse came I was so grateful for the back-up. All the people who came were lovely and very professional."
Bridget is keen to make other families aware of the service.
"We were unaware we had access to this service. It might influence people's decision if they wanted to be at home but may not want to be a burden to their family," she added.
Support for the whole family
Bridget's daughter, Hannah Rech Adams, said the hospice support helped the whole family. "I don't think we would have coped without the service. We were all coming apart at the seams and it was a massive comfort to my dad to know there were people coming in to take the pressure off us.
"To start with, my mum didn't leave the room, but once you started coming she then felt she could. Everyone who came was brilliant. They treated dad with dignity and respect."
Hannah, whose son was just six months old at the time,  said it meant a lot for her father to be at home in those final weeks. "The day Dad came home from hospital was the happiest he'd been for a long time. Being at home meant he could have visits from all the people he wanted to see and he got to spend time with his grandson. I don't think I could have taken a six month old baby onto the ward if he'd still been in hospital. My grandparents who are in their 90s were able to visit too and they couldn't have visited him at the hospital."
Bridget's son Dominic, who is a journalist for CNN, was so impressed by the hospice care that he shadowed the night support team and featured their work on CNN's global network.
Dominic, 25, said: "I had no realisation of what really happens when someone's time is up. When this happens to a member of your family you are under a huge amount of stress. If we'd been in that situation by ourselves, with no support, we would not know what to do and we would have been overwhelmed.
"If you are coming to the end of your life it makes sense that you have control over where and how you spend the time you have left.  If you choose to die at home this support from the hospice makes that possible.
"Quality care on a regular basis is essential at the end of life. The people who came from the hospice were amazing. They made a bleak situation a whole lot better."
Hospice Night Support is a new service launched in November 2018 and initially piloted for one year. In August we announced plans to extend the service and treble provision from one team to three.
It currently costs £370,000 per year to deliver this expanding service. If you would like to help more families like Phil's there are lots of ways to get involved. Find out more here.