3rd October 2023
Hospice Care Week: Wendy's Story
For Hospice Care Week, we're celebrating our staff and volunteers who make our care so valued.  Today we bring you Wendy's story.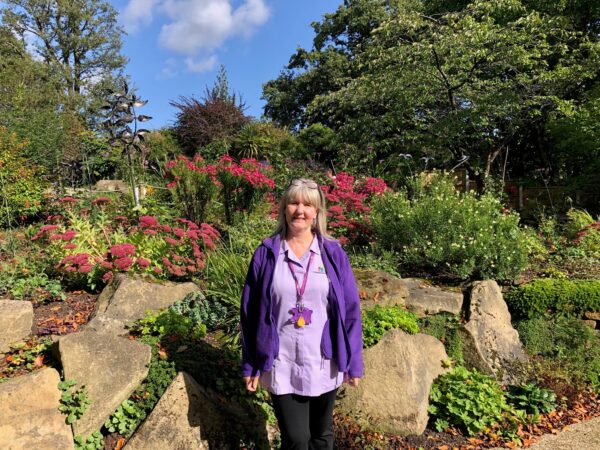 Senior Healthcare Assistant Wendy Crofts joined the team at Nottinghamshire Hospice 17 years ago, which makes her the longest serving member of staff based at the Woodborough Road site.
Wendy, who prior to this worked in a community care role, started out in what was then the Day Therapy unit, and on her very first day she took patients on a boat trip on the Trent.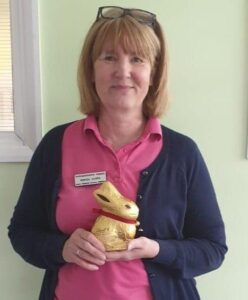 In her time at the hospice, she has seen many changes, including a decamp to a day centre in West Bridgford while the building was refurbished and the extension built.
Lockdown
In 2020, Wendy had just celebrated her 60th birthday when the Covid 19 lockdown was announced, meaning the hospice building had to close. Caring for patients at home took on a new urgency as many were isolated from families and hospital beds needed to be kept free for Covid patients.
Wendy and her colleagues continued to support patients with welfare calls and visits, before being offered an opportunity to join a new rapid response team, set up to fast-track patients out of hospital to be cared for at home.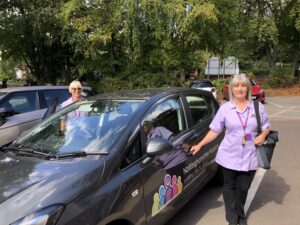 Wendy, pictured right, above, said: "I found it hard at first making the switch to visiting patients in their homes.  I'd never worked with people who were that close to dying. But it was very rewarding knowing that you were helping families who were struggling."
Personal experience of hospice care
A few years ago, Wendy's own mother was cared for by Hospice in your Home teams before she died. This has given her first-hand experience of care for patients and their families.
"It made me appreciate the value of our care having seen it from the other side," she said.
"At the hospice, we have the time to spend with patients, and they really appreciate this."
"We are there to support everyone in the household, not just the patient.
"It's a privilege to be with people when they die. It's hard for families to accept help from a stranger but you can see the relief on their faces once we get involved. Even in just one day, we can make a difference. They say a weight's been lifted."
Highlights
Her highlights include getting involved in the Hoodwinked sculpture trail in 2018, when she accompanied a patient to the auction, and moving back into the brand new, purpose-built extension which became the Day Therapy unit.
"I still love working for the hospice. It's a special place and all the staff are brilliant," said Wendy.
If you'd like to be part of our team here at Nottinghamshire Hospice we have paid and volunteer roles available. Find out more here.