22nd March 2023
Hospice celebrated for 'carer-friendly' standards 
Nottinghamshire Hospice has received two prestigious awards for its approach to supporting unpaid carers in the community, and staff who have caring responsibilities at home.

The organisation is the first hospice in the county to receive the 'Carer-friendly Service' quality mark from the Nottinghamshire Carers Association (NCA). It has also been awarded the 'Carer-friendly Employer Award.'
Presenting the awards, NCA's Stephanie Smith, pictured (left) below cited the team's 'innovative and impactful approach' to supporting carers.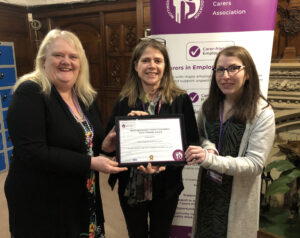 Stephanie said: "Many carers miss out on support that can make a real difference. I've seen the wonderful work that Nottinghamshire Hospice does, not just for patients but also their carers,  and for its own staff who are also carers. As well as the dedicated bereavement support the hospice provides, the hospice nursing teams provide emotional support for carers while they are visiting patients at home. Feedback shows how valuable this is for carers."
Devi's story
Devi Rani Cooper took leave from her job to become her mother Sushila's main carer after Sushila was diagnosed with incurable bile duct cancer. Nottinghamshire Hospice provided Hospice in your Home care at night and in the daytime to help Devi cope.
Devi said: "Caring for someone 24/7 can be exhausting. I had a baby monitor set up in my bedroom in case Mum needed anything in the night, but you don't sleep properly. When the lady from Nottinghamshire Hospice came, it meant I could switch the baby monitor off and get some sleep, knowing there was a healthcare professional in the house taking care of Mum all night.
"The hospice took care of Mum and they also took care of me."
"Even the people I spoke to on the phone were lovely too. A few days after Mum died I felt overwhelmed and I phoned the hospice and the person I spoke to gave me reassurance and support."
Kate Martin, Palliative Care lead at Nottinghamshire Hospice, added: "Devi's story is one of many examples of the way our nursing teams support carers while they are out and about across the community. It's a real honour to receive this accreditation which recognises the importance of the support our teams give to carers."
Supporting staff
The Carers Association was commissioned by Nottinghamshire local authorities to raise awareness of Carers and to put together criteria for the accreditation.
One of the requirements for organisations to qualify is that they provide NCA training for staff. Nottinghamshire Hospice has organised training which highlights how to recognise a carer, the impact of caring, how to support carers and what other resources are available.
Jayne Davies, Employer Liaison Worker at NCA, pictured (right) above, presented the Carer-friendly Employer Award. She said: "This acknowledges the amazing work Nottinghamshire Hospice has done to support their employees who are also unpaid carers. I want to thank the whole team for their engagement and positivity. Their approach was always to achieve the best outcome and where there was already carer support in place they asked how they can improve and add more value to it.
"The hospice has looked carefully at how they identify carers in work, thought about how to encourage them to come forward, and how to tell them about the support available. To support staff, the hospice has reviewed existing policies to embed more carer support, is developing a carer's policy which includes flexible working arrangements and line manager support."
The hospice has also appointed a 'carer's champion' – a member of staff, themselves a carer, who can support other staff who have caring responsibilities outside work.
At Nottinghamshire Hospice, we provide Hospice in your Home services for patients with incurable illness plus support for their carers before and after bereavement. Find out more about our Care services here.