9th June 2022
Hospice donates unsold books and clothing to families in need
Nottinghamshire Hospice has teamed up with three local charities in a new scheme to donate items not sold in its shops to people in need.

Items donated to the hospice which don't sell within a certain time period are removed from sale to redistribute or recycle. The hospice now gives children's and adult clothing and books to community organisations that can use them.
Tackling clothing poverty
One of these organisations is the Sharewear Clothing Scheme which started in Nottingham and has now become a national franchise –  supporting families through appointments or outreach. The hospice donates unsold children's clothes for distribution among families.
Louise Cooke, CEO of Sharewear Clothing Scheme, said: "The donations from the hospice make a huge difference. We support people for as long as their economic issues last, so in the case of children, as they grow into new sizes, their parents and carers return to us with new needs. In the UK we are now in the worst economic crisis for 50 years, so this support is all the more important to help us meet increased demand.
"Nottinghamshire Hospice is the first charity to donate to us on a regular, organised basis and we hope others will follow suit."
The hospice has also linked up with the Nottingham Literacy Volunteers – a scheme which provides volunteers to work in schools to help children improve reading skills – to donate unsold children's books.
Chair of Trustees Julia Gunn, said: "The books are helping us to deliver literacy support in primary schools and the community. We aim to continually develop activities to help children to learn to love books and we are really pleased to be working with Nottinghamshire Hospice to achieve this."
At next month's summer fair, the hospice has pledged to give out free books to children attending.
Help for refugees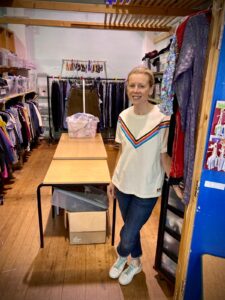 The hospice also donates items – including men's clothing – to Host Nottingham, an organisation which arranges temporary accommodation for refugees and asylum seekers in host families' homes. The charity runs a clothes bank which caters for around 60 people each week.
Clothes bank volunteer Carol Wilby, pictured above,  said: "The hospice has donated suitcases, rucksacks, men's joggers, sweatshirts and coats. These are the things we're really desperate for and they've been great quality. It makes a huge difference. It means we don't have to source these things elsewhere and our time and funding can be used to help run Host's other vital services like hosting."
Alongside this, the hospice has linked up with families hosting Ukrainian refugees to offer a chance to choose clothes from hospice shops.
Sustainable solutions
This work forms part of a wider drive to reach out to communities across the city and county while improving sustainability at the hospice.
Rachel Hucknall, Chief Executive of Nottinghamshire Hospice, said: "This is a fabulous scheme that not only gives unsold items a new lease of life but also puts them in the hands of people who need them.
"With the rising cost of living, families face increased struggles to feed and clothe their children.  By donating our unsold items we can do our bit to help eliminate clothing poverty and raise literacy levels.
"Now, more than ever, we need to take personal responsibility for the environment in which we live and to act in more sustainable ways. By selling preloved clothing in our shops we are already saving items from landfill.  This scheme means that even items which don't sell go on to benefit local communities."
Donating your preloved items to Nottinghamshire Hospice shops not only raises vital funds to help us provide our services, it also saves items from landfill and helps reduce clothing poverty. Find your local hospice shop here.