25th July 2019
Hospice helps bowls fan David get the ball rolling

Until recently, David (84) led a very active life playing regular golf, tennis and bowls as well as going to the gym.
But in January this year, after being admitted to hospital with pneumonia, he was diagnosed with Motor Neurone Disease (MND), a progressive disease that involves degeneration of the motor neurons and wasting of the muscles.
This, sadly, put a stop to his sporting activities. But since coming to Nottinghamshire Hospice David has worked with physiotherapist Mel Reizig on his mobility and balance. He has also taken part in yoga and tai chi sessions which take place on Friday wellbeing days.
His goal was to be able to play bowls again at his club, so Mel (pictured left) has provided a quad stick which gives him support on one side, allowing him to lunge to roll the ball. He's now had a practice in the hospice lounge.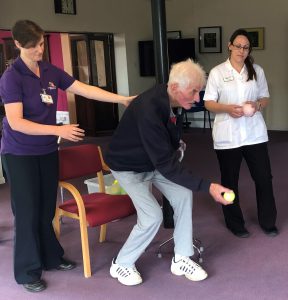 David said: "To play bowls you have to bend down. I'm six foot two so it's a long way to bend, but the stick helps, so I'm hopeful I'll be able to play again."
Mel said: "We loaned him a stick now he's ordered his own. He was able to practice the technique here so now it's safe for him to go back to his club when he feels able.
"Before his diagnosis he had been very active. He was playing tennis in December so it's a big change for him. High intensity sports isn't recommended for people with MND but bowls is a good, low intensity activity so it's satisfying to be able to help him get back into playing."
David learnt about Nottinghamshire Hospice through the practice nurse at his GP surgery. He now regularly attends the hospice Friday Wellbeing days which provide a range of activities for patients on a drop-in basis. Coming to the hospice gives David's wife, Joan (80) who is his main carer, a break.
David said:  "I was delighted with the reception at the hospice. It's a lovely setting in beautiful grounds. Everyone has been wonderful and most kind. I only have praise for your troops there! Mel has been fantastic."