24th May 2022
Hospice hosts Death Café to open up discussion about dying
Death isn't the sort of thing people like to talk about, but breaking that taboo can make things much easier when it comes to the end of life of a loved one.

Having those conversations early on can mean that when a family member approaches the end of their life, everyone is clear about what their wishes are.
Nottinghamshire Hospice is hosting a Death Café on Thursday to start to open up discussions about death and dying in a safe, relaxed environment.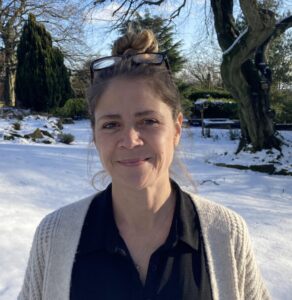 Kate Martin, Palliative Care Lead at Nottinghamshire Hospice – pictured above – said: "speaking both professionally and personally, having experienced first-hand the death of a partner, I can categorically say that preparing for your own death or that of a loved one can be quite terrifying.
"It's not a subject anyone wants to have to think about because it feels quite morbid but it's important to remember that talking about death doesn't make it come any quicker. The more prepared we and those around us are, the less worry and more control we have, and the more personal it can be."
Importance of planning
Kate stressed the importance of having an advance care plan in place, which lets healthcare professionals and family members know what someone's wishes are, whether they want people around them at the end, what songs they'd like at their funeral, where they'd like their final resting place to be, even what songs they'd like at their funeral.
It also allows people to specify if they'd rather be at home, in hospital or in a hospice, and if there are specific treatments they wouldn't want to have.
"We have a team of Registered Nurses and Healthcare Assistants who can talk through all these aspects with you but also provide care and support when you need it," Kate added.
"The Death Café is an opportunity to look at all these aspects in a relaxed environment and start to break the taboo about talking about death. Everyone is welcome and there's no need to book."
The Death Café is taking place at Nottinghamshire Hospice, 384 Woodborough Road, Nottingham, NG3 4JF on Thursday 26th May from 6 – 8pm. Find out more.