4th March 2021
Hospice scores support from Art of Football
A Nottingham business set up by two brothers has donated £500 to the hospice as a thank you for their grandma's care.

Luke and Gabe Cuthbert set up Art of Football seven years ago when they were in their early 20s – initially working from their parents' back bedroom. Since then all three of their other brothers have joined the company which makes football themed artwork and merchandise. In 2017 they won a young entrepreneurs award which enabled them to achieve their aim of buying their own studio where they design products ranging from t-shirts to football boot plant pots.
Each year the company makes a donation to charity, going out to their social media followers to vote on which cause to support. This year's winner was Nottinghamshire Hospice, a cause close to the family's heart as the hospice provided end-of-life care for grandma Thelma in her West Bridgford home before she died last May.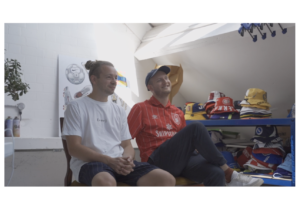 Luke said: "You supported our gran by coming in at night for the last five nights of her life. You have no idea how much this care meant to my mum. It meant she could have a rest away from gran's house for a few hours knowing she would be cared for and that they would ring if it was necessary.
"Also as it was lockdown Mum had felt lonely in caring for our gran. We can't thank you enough and hope this contribution will help another family at a difficult time."
Thelma had been diagnosed with bowel cancer nine months earlier, and wanted to be at home at the end of her life. The hospice care enabled that to happen.
Charity goals
Luke said: "We've been fortunate in that all our sales are online so we've been able to carry on trading all through lockdown. The business has done well, so each year we like to give something back to the community. We were delighted that our followers picked the hospice because of our own experience with you."
The hospice was one of three charities they chose to support this year.
Rebecca Taylor, Community Fundraiser at Nottinghamshire Hospice, said: "It's good to hear that our care made a difference to Luke's family. We're really grateful to Luke and Gabe and  the Art of Football community for their generous donation and for spreading the word about what the hospice does."
Nottinghamshire Hospice needs to raise £3 million each year to provide its services, and relies on the generous support of local communities. If you'd like to support the hospice, there are lots of ways to get involved. Find out more here.