20th December 2018
Hospice staff spend Christmas caring for terminally ill patients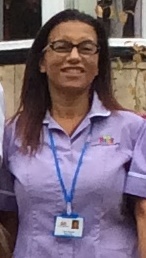 While most of us are tucking into our Christmas dinners and enjoying festive celebrations with friends and family, nurses and healthcare assistants from Nottinghamshire Hospice will be caring for terminally ill patients in their homes across Nottinghamshire.
The Hospice at Home service and the new Hospice Night Support service will continue all through the Christmas period, providing care for people in the last weeks, days and hours of their lives and supporting their families through traumatic times.
Among them will be Healthcare Assistant Sue Renault, who will be working overnight on Christmas eve, Christmas day and Boxing day.
Sue, of Ilkeston, who works across Nottingham and beyond, said: "Me being there to care gives families the support they need to be able to get some rest and respite themselves. It allows them to recharge their batteries a little.
"Families try to make the most of the time they have with their loved ones at Christmas but coping with the emotional side of what is going on is especially hard at this time of year. I'm happy to be able to provide that extra support over the Christmas period."
Sue, who has worked for Nottinghamshire Hospice for four years, has spent the last few Christmases working across Nottingham.
Jo Polkey, Director of Care at Nottinghamshire Hospice said: "Christmas is an especially poignant time for families who may be facing their last few days or weeks with someone.
"For someone to die over Christmas is devastating.
"A lot of services stop over Christmas and New Year but our Hospice at Home service keeps going all through the period, providing vital palliative care for patients and supporting their families.
"Our new Hospice Night Support service, which we launched earlier this month, will also keep going over Christmas, providing crucial help and support for patients and carers who need urgent help in the night."
There are currently 60 Hospice at Home staff caring for more than 100 patients across Nottinghamshire. There are four Hospice Night Support staff who made more than 170 visits to patients in the first trial month of the service, with up to 10 or 11 visits some nights.
To contact the team; request a visit or advice, phone 0115 962 1222