9th May 2019
Hospice takes show on the road for Dying Matters week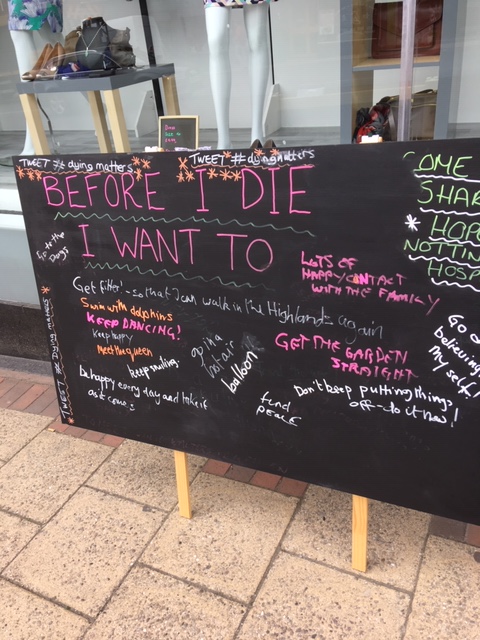 Nottinghamshire Hospice has teamed up with the Nottingham CityCare partnership to put on a series of events at health centres and clinics across Nottingham during Dying Matters Week (13-16 May) to promote end of life care in the city.
The hospice is also taking a 'Before I Die' chalkboard on the road around its shops across Nottinghamshire to encourage people to record what's on their bucket list. This forms part of a week-long national campaign aimed at encouraging discussion on death and dying and raising awareness of services available.
Clinical Nurse Specialist Liz Morgan says: "As a society we do need to talk about death and dying in order to be able to prepare for our own death and that of our loved ones. Dying Matters Week is an opportunity to place the importance of talking about dying, death and bereavement firmly on the national agenda.
"Being diagnosed with a terminal or life-limiting condition can be devastating for people so the hospice is here to help. The services we provide help patients and their carers cope with such a diagnosis and make the most of the life they have left.
"We are taking the hospice on the road during Dying Matters Week to help raise awareness across Nottinghamshire that we are here to serve local communities."
Lissa Henderson, Team Manager for the Community Palliative Care Service at CityCare, Nottingham says: "Working in partnership with Nottinghamshire Hospice definitely improves the experience of those using our services. Effective team work and good working relationships has been shown to improve the outcomes for our patients.'
To find out more about palliative care in your area or to write your bucket list items on our chalkboard, come and see us at one of these venues:
Monday 13 May:     
'Before I Die' chalkboard at Sherwood shop
Display stand at Clifton Cornerstone Clinic
Tuesday 14 May:
'Before I Die' chalkboard at Mapperley Shop
Display stand at Wollaton Vale Health Centre
Wednesday 15 May:    
'Before I Die' chalkboard at Burton Joyce shop
Display stand at Mary Potter Health Centre
Thursday 16 May:   
'Before I Die' chalkboard at Calverton shop
Display stand at Bulwell Riverside Health Clinic
Friday 17 May:
'Before I Die' chalkboard at Wollaton shop
Display stand at St Ann's Health Centre