11th November 2021
Introducing Dolores, our new Volunteer Services Manager
We recently welcomed Dolores Watters to the hospice as our new Volunteer Services Manager.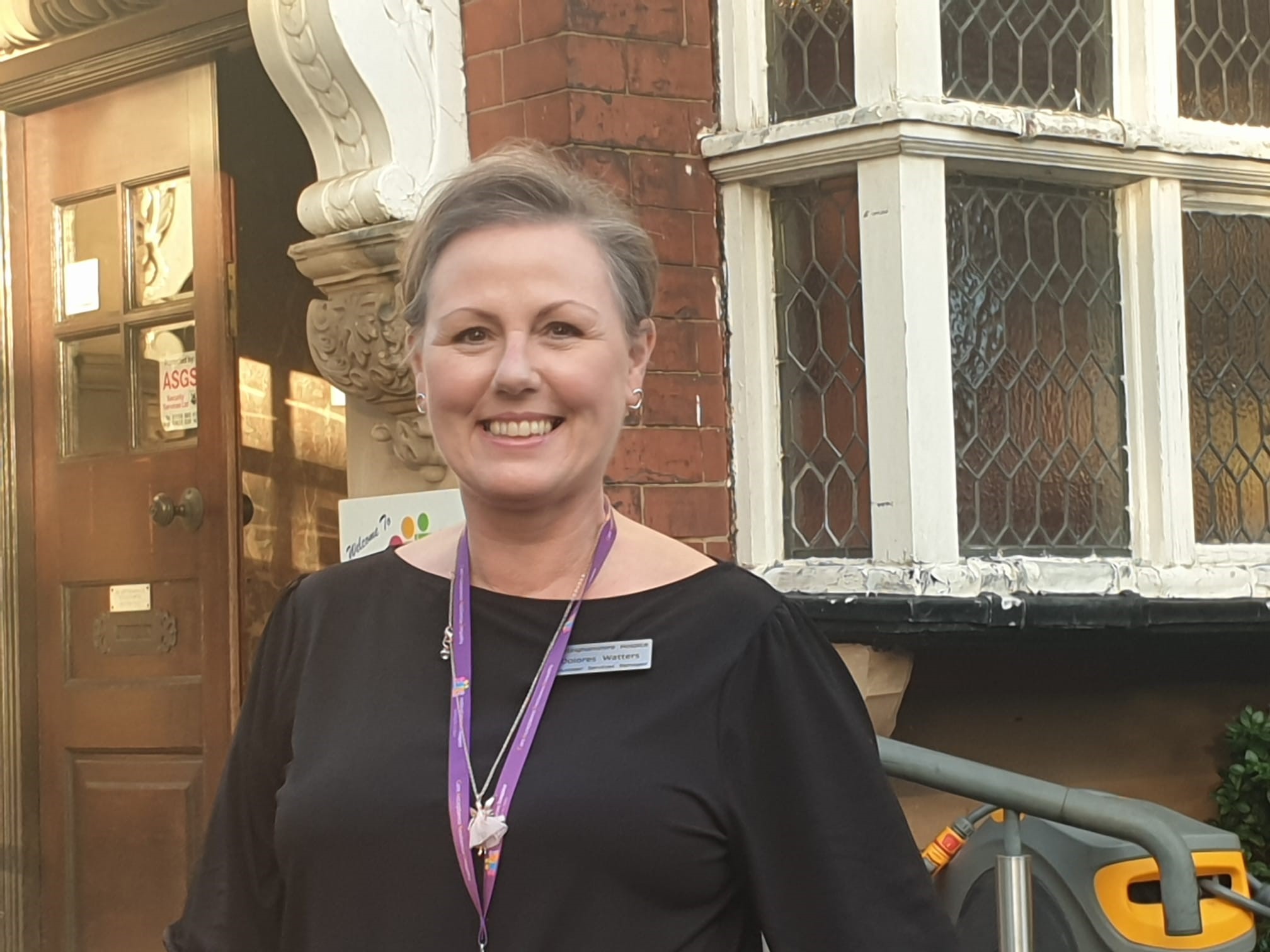 Dolores joins us with a wealth of experience gained in HR, the NHS and charity sectors. She has been a volunteer herself and continues to volunteer with various organisations.
Dolores, from Leicester, worked in HR in the brand new John Lewis store in the city's High Cross Centre when it opened in 2008, working with a great team developing policy and procedures, delivering training and supporting staff and managers.
She then joined the Leicester branch of Cruse Bereavement Care where she was the only paid member of staff working with 300 volunteers. This gave her a keen insight into the value volunteers bring to an organisation and how best to support them. She also volunteered as a bereavement support worker herself.
In her next role at the Stroke Association she delivered stroke support services across the city, working closely with volunteers who supported stroke survivors one-to-one or in a group setting.
While working as Volunteer Services Manager in the NHS in Leicester, Dolores managed a team to recruit train and support volunteers across the city's three hospitals.
"Volunteers are hugely important and much valued part of many organisations, and it's crucial that we support them, that they have a clear role, structure and training.  Investing in our volunteers in this way, ensures volunteering is mutually beneficial" she said.
"Having been a volunteer myself gives me both perspectives. As a volunteer I want to know what my role is and that I'm going to receive training and support."
Hospice role
In her role at the hospice, Dolores is keen to encourage volunteers from more diverse backgrounds, and younger age groups. She is exploring the possibility of extending volunteering opportunities to 16-18 year olds and the Volunteer Services Team will work together to facilitate this.
"Nottinghamshire Hospice is a fantastic organisation. You walk through the gates and immediately you see the beautiful garden and know it's a lovely space. The first thing I noticed when I walked through the doors was how friendly and welcoming everyone is. There's a real sense of calm. It doesn't feel like a medical setting," she added.
"We rely on our wonderful volunteers and want to invest in them. We offer a range of opportunities according to people's aims and interests. Volunteering can help people into work by developing their confidence. They develop skills they can use elsewhere. For others their reason for volunteering might be the social side or that they want to give something back.
"I have a great team here at the hospice and I'm really excited about what we can achieve together."
When not working or volunteering enjoys doing charity walks, including the Loughborough Santa fun run – pictured above – cinema, reading and travel. In her twenties she lived in Dublin for five years. She is now planning a trip to Paris, taking in a visit to Disneyland.
Volunteers are incredibly important at Nottinghamshire Hospice. We simply couldn't provide our services to patients without them. If you're interested in volunteering, there are lots of roles available. Find out more here.