23rd November 2022
Introducing Julie, our new Volunteer Services Coordinator
We recently welcomed Julie Dunne to our team as Volunteer Services Coordinator.

Her role involves working with the hospice's 200+ volunteer team, recruiting and training volunteers, supporting and matching them to roles and coordinating their activities.
Background
Originally from Worksop, Julie joins us after a 30-year career in teaching. She has taught in schools in Greece, Essex and her home county of Nottinghamshire.
For 17 years of her career, she worked at Jesse Gray primary school in West Bridgford where she was English Lead, upper KS2 Manager and Student Mentor before moving to Parkdale School in Carlton.
As well as teaching the children, Julie organised yearly reading events, carried out research studies with the Open University and ran community projects for local refugee charities.
Change in career
Julie says, "I loved teaching, it's exciting and hugely rewarding but I've done it all my life and I decided it was time for a change.
"I wanted to work in the charity sector so that I could do a job that makes a difference to people. When I came to the hospice, it had such a caring and joyous feel to it.
"The staff and volunteers are incredibly hardworking with the common goal of helping to make people's lives better."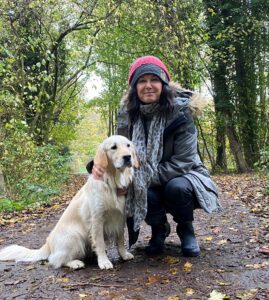 When not working, Julie enjoys walking her Golden Retriever (Molly), vegetarian cooking, going to gigs and socialising with friends. She has a 13-year-old daughter.
If you'd like to join our team here at Nottinghamshire Hospice, we're currently recruiting for a number of roles in our Care team. Check out our current vacancies here!