6th December 2022
Introducing Laura and Carl our new HR team members
We recently welcomed two new starters to our HR team. Carl and Laura both joined the hospice in the past few weeks, bringing the team up to full complement.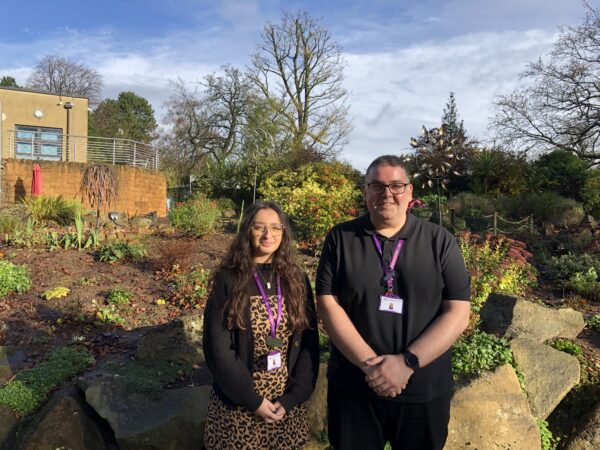 Laura Wardhaugh has been recruited to the role of HR Advisor. She joins the team from Vision Express where – as HR Administrator – she completed her CIPD level 5 qualification. Moving to an Advisor role was the logical next step.
Laura says "I love the job so far. Coming from a big retail environment where we had 6,000 staff, I find the atmosphere here relaxed and friendly.
"I knew of the hospice but didn't know what happens here. I thought it might be a depressing place but it's the complete opposite, it's lovely. It's like a hidden treasure."
The role
Laura will primarily support retail staff across the hospice's 10 shops and staff based at Woodborough Road, ensuring HR policies are followed and dealing with  queries. She will also be working on HR projects.
Outside work, Laura is a fitness enthusiast, getting up early to go to the gym before work. She's also developing an interest in lyrical and street dancing and has just joined a dance class.
Carl Hart has taken up post as HR Administrator, having previously worked in the Medical Physics department of Nottingham City Hospital,  organising equipment for wards. Prior to that he worked at QMC in the sterile services section, preparing kit for operating theatres.
Carl's partner Julie also works at the hospice as Executive Officer. The couple had first hand experience of Nottinghamshire Hospice's care before Julie's mum passed away in May. The hospice provided Hospice at Home care which enabled her to stay at home at the end of her life.
Carl said: "I knew about the services we received, so I already had a good impression of the hospice and an understanding of what it does. Soon after Julie started working here, I came to the dog show and met quite a few of the staff and volunteers. Everything I heard about the hospice was positive.
"I fancied a change from what I was doing and wanted to move into a new field. My background of working with strict policies and procedures will help me in the job."
The role
Carl's role involves supporting both HR advisors, day-to-day administration of the department, initial contact with job applicants, setting up interview rooms and organising induction for new starters.
In his spare time he loves gaming and electronics, enjoys tinkering with 80s and 90s classic cars and has recently taken up Latin and Ballroom dancing.
If you fancy joining our team at Nottinghamshire Hospice, we're recruiting for a number of roles. Check out our current vacancies here