11th August 2022
Introducing Marc, our new Facilities and Transport Manager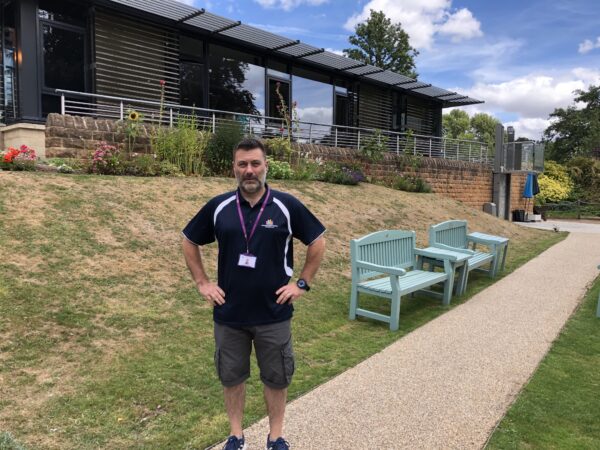 We recently welcomed Marc Dewstowe to the hospice as Facilities and Transport Manager. Marc joins us after a 30-year career in the Army where he saw active service in Northern Ireland, Iraq Afghanistan and the Balkans.
After joining the Army as a Private, aged just 19, he rose through the ranks and was selected for commission to Captain in 2015. For the past few years he's been based across Europe as an Ammunition Technician in the Royal Logistic Corps.
Originally from Birmingham, Marc met his wife while working in the bomb disposal unit at Chilwell Barracks and made Nottingham his home.
Volunteering at the hospice
He first came to the hospice as a volunteer earlier this year when he became one of the team of green fingered volunteers who tend the hospice garden.
Marc said: "I love gardening and being outdoors. I had no idea the hospice existed or what it did, but I was looking for volunteer gardening opportunities and the hospice was the first place that came up.
"The first thing I noticed was just how friendly people were and that includes the staff, volunteers, patients and their families. Everyone is so friendly and welcoming. The Chief Exec would bring coffee and biscuits out to the gardeners and have a laugh with us. It makes you feel there's no barriers or division."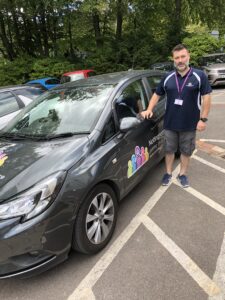 The role
In his role at the hospice Marc is responsible for maintenance of the Woodborough Road building, plus all the shops and the fleet of vehicles.
"There's a lot to do, as nobody has been in the role for two years, so I've come in with a clean slate," he said.
"My first priority was to sort out the hospice energy contracts and get the best possible deal over a fixed period. I'm also looking at fire safety arrangements for the building and sorting out maintenance issues for the shops which will hopefully make life easier for our staff and free them up to be retail managers."
Marc has two stepsons in their early 20s and a Romanian rescue dog called Fozzy. As well as gardening, he's a keen watercolour artist, creating pet portraits or paintings with a military theme.
If you'd like to join the Nottinghamshire Hospice team we're currently recruiting for a number of clinical and non clinical roles. Check out our current vacancies here!