14th July 2022
Kathryn tackles first half-marathon to support Notts Hospice
Kathryn is gearing up for her first ever half marathon on Sunday to raise money for the hospice as a thank you for her mother's care.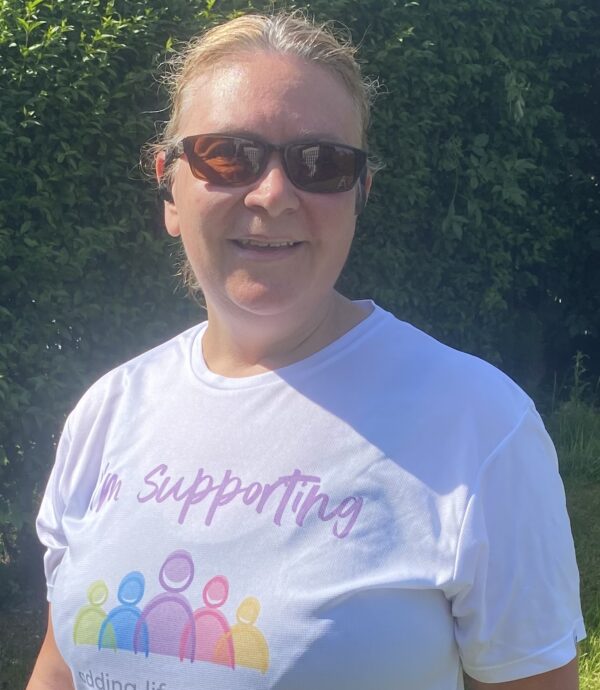 She'll be putting her best foot forward in searing heat to tackle the race which is part of the Nottingham Running Festival.
The hospice has provided Kathryn's mum Carole, from Bilborough, with Hospice at Home care at night, to support Kathryn's 82-year-old father Harry.
Support for the whole family
Kathryn, a Macmillan Cancer Information Nurse Specialist who provides telephone support to people affected by cancer, says the care received from the hospice has helped the family maintain a normal life.
"The Hospice at Home care has allowed my dad to sleep so he has energy to care for Mum in the day. It's also allowed me to carry on working. 
"The nurses from the hospice are very caring and supportive. Mum really likes them. They listen to her needs and they respect her independence. The hospice care has helped Mum stay at home."
Discharge from hospital
Carole was diagnosed earlier this year with advanced Breast Cancer. She also has spinal cord compression. She was taken into hospital where she spent nine weeks before Kathryn was able to get her discharged.
"I thought Mum would die in hospital, but since she's come home she's like a different person. The hospice care has really helped us to keep her at home, which is where she wants to be."
Running
Kathryn started running in 2019 through a couch to 5k programme, losing three stone. She recently completed the 10K Vitality Run in London as a warm up for the half marathon. 
As the heatwave continues, with temperatures predicted to reach 31 degrees on Sunday, organisers have said half marathon runners may be transferred to the 10K race.
Fundraising
Kathryn has already smashed her £250 target – with more than £320 raised for the hospice so far.
Paul Hawkins, Individual Giving Fundraiser at Nottinghamshire Hospice, said: "We're really grateful for the dedication, hard work and time that Kathryn has put in to support the hospice and everyone is so impressed with her running achievements. Good luck for Sunday, Kathryn!"
To support Kathryn's fundraising, go to https://www.justgiving.com/fundraising/kathryn-roberts13
If you'd like to take on a challenge or fundraise to support Nottinghamshire Hospice, there are lots of ways to get involved. Find out more here.