24th November 2020
Maxine lights hospice tower in memory of much loved mum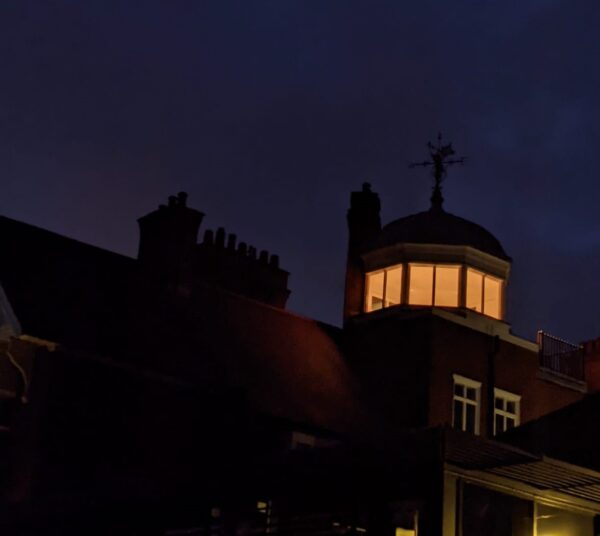 Maxine Huddlestone has donated to light up the historic cupola tower at Nottinghamshire Hospice tonight on the anniversary of her mother's death as a thank you for her care.
Maxine's mother Janet received Hospice at Home care at the end of her life after being diagnosed with lung cancer early in 2019.
Janet was discharged from hospital to spend her last weeks in her Carlton home. Maxine, who lived next door to her mother,  cared for her during the daytime but found the help provided by the hospice at night invaluable.
Maxine said: "I knew about the hospice but didn't know about the night care you provided till we needed it ourselves. You were a massive help.
"Knowing there was somebody there all night looking after mum helped so much. It meant at 10pm I could come back home and get a night's sleep."
Maxine said it meant a lot to be able to care for her mum at home, where she was in familiar surroundings with family around her. Janet, who had three children, three grandchildren and one great-grandson,  passed away at home, aged 86.
As well as lighting up the tower, Maxine and her family support the hospice in other ways too. Maxine has bought 12 of the Festive Forget Me not Flowers. Her sister has signed up as a regular giver and her son regularly donates to the hospice shop.
"Lighting up the tower seemed a lovely way of remembering Mum on her anniversary and a fitting tribute," Maxine added.
"I hope to be able to do this every year."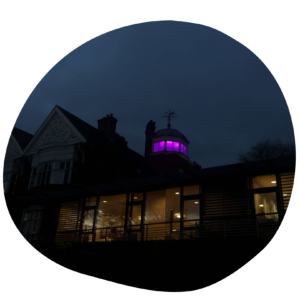 For a donation of £350 – the cost of providing Hospice Night Support for a night –  families or communities can light up the tower for a night in a colour of their choosing to remember a loved one. The tower shines out as a beacon of hope and remembrance across the city.
Rebecca Taylor, Community Fundraiser at Nottinghamshire Hospice, said: "We're so grateful to Maxine and her family for all their support. Lighting up the tower for a night is a unique way of remembering someone special, symbolic of hope and light.  The tower can be seen for miles around so this is something we can do, even during lockdown, to remember loved ones. "
If you'd like to support the hospice by lighting up the tower for a night in memory or celebration of a loved one, find out more here.