8th September 2021
Meet the therapy assistants
As GRACE unit activities got underway this summer, we welcomed three new therapy assistants to the hospice.

Owen, Maggie and Donna have been recruited to support the therapy-based model of care, help deliver activity sessions and work alongside volunteers to assist patients attending the unit.
Maggie worked for the NHS in a community setting. In her previous role she visited patients at the hospice and was inspired by the atmosphere here.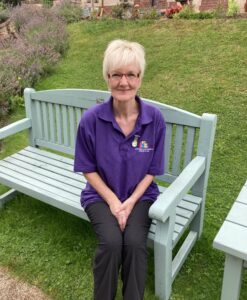 'I was impressed by the warm welcoming environment and how the patients said it enhanced their lives so much.
'It's exciting to be here right at the start of the unit, to be a key part of the new therapy group and to watch it develop and grow. It's great to work in an environment designed to meet patients' specific needs, where they are given choices.
'Patients put their trust in us, even though they don't know us. Because we're here in this building that they trust.'
After leaving the NHS, Maggie ran her own tea-shop for a while and she now combines her part-time role at the hospice with putting on pop-up hospitality events.
Donna previously worked in a community reablement team and at a day centre for dementia patients. She said: 'I came to a Christmas fair at the hospice several years ago and as soon as I walked through the door I told my daughter that I'd love to work here. There was just something about the place. Now here I am!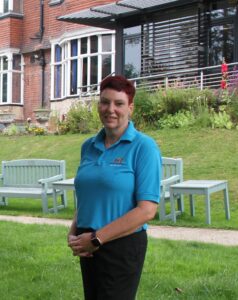 'I've never worked in a therapy setting before. It's lovely to see patients enjoying the different aspects of the unit. They've all said they've enjoyed it.'
Donna also works part-time and when not at the hospice is kept busy with her grandchildren aged six and four.
Owen graduated last year from Nottingham Trent University with a degree in Sports Science. In his second year at university he did a placement at the Defence Primary Health Care rehabilitation centre in Colchester where he worked with RAF crew and paratroopers including amputees.
'I realised then that I wanted to work in a rehabilitation setting. It was the same broad idea as here as it was about helping people make the most of what they have and making their days better.
'It's an incredible service. It's great to see patients walk out with smiles on their faces after such a long lockdown to be out and about and be able to socialise.'
Owen is a keen and accomplished rower with numerous medals to his name. A member of the Nottingham Rowing Club, he trains six days a week before starting his day's work at the hospice.
Therapy assistants work as part of a team of dedicated Care professionals at the hospice. We are currently recruiting for various roles in our Care team including registered nurses and healthcare assistants. Check out our current vacancies here.