26th May 2022
Meet the trustee: Becky Whittaker
We recently welcomed Becky Whittaker to our Board of Trustees. She joins us with a wealth of experience across many aspects of end-of-life care.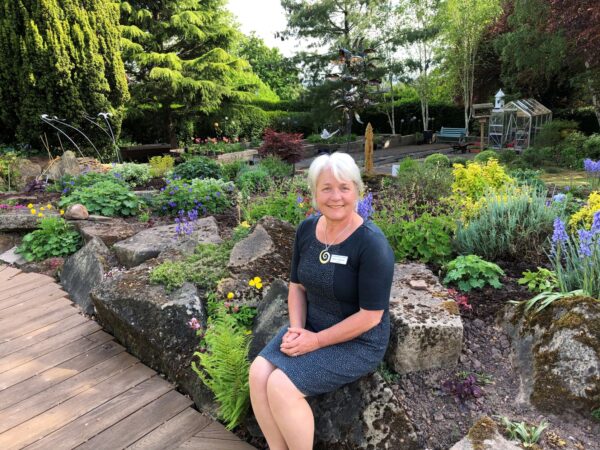 Becky began her training as a registered nurse in 1981– the year after Nottinghamshire Hospice was founded, and her varied career has developed alongside it.
Aware of the hospice in its early stages, by 1988 she was working as a night sister on an oncology ward and became more involved as she was discharging patients to die.
Career in end-of-life care
In the 90s, she became more active in end-of life care, working as a Marie Curie nurse then managing a Sue Ryder Hospice in Leicestershire. In 2003 she became Ward Manager for Hayward House Palliative Care Unit at Nottingham City Hospital.
She later became an educational tutor for University of Nottingham, during which time she regularly visited the hospice, and in 2018 set up her own freelance educational consultancy, which freed up some of her time to look for volunteering opportunities.
"I'm still passionate about end-of-life care and want to pass some of my knowledge and experience on before I retire completely," said Becky. "Nottinghamshire has given me so much throughout my career, I'm keen to give something back."
Natural fit
Nottinghamshire Hospice seemed a natural choice for Becky, as its development mirrored her own.
"Throughout my working life, the hospice has always been on the Nottingham circuit and now I'm coming to the end of my career it seems a natural fit for me," she said.
"Outreach into people's homes is important across all parts of the community and in all care settings. "Outreach from an organisation well established in the area is a gift the hospice gives to people.
Welcoming environment
"The hospice has always been a welcoming place. There's an honesty about it which is important when working alongside people at the end of their lives."
In her spare time, Becky loves the outdoors. A keen gardener, she lives in a cottage in North Nottinghamshire and aims to become self-sufficient by growing vegetables. She is creating an orchard by planting a range of fruit trees and is also planning to keep bees.
The Board of Trustees is responsible for the overall governance and strategic direction of Nottinghamshire Hospice. We're always looking for new trustees and are keen to hear from people with relevant professional skills and experience. Find out more here.