8th August 2023
Meet the Trustee: Paul Caulfield
We recently welcomed Paul Caulfield to our Board of Trustees.
He brings with him a wealth of experience in business and community engagement having held senior roles in major investment banks and oil companies all over the world.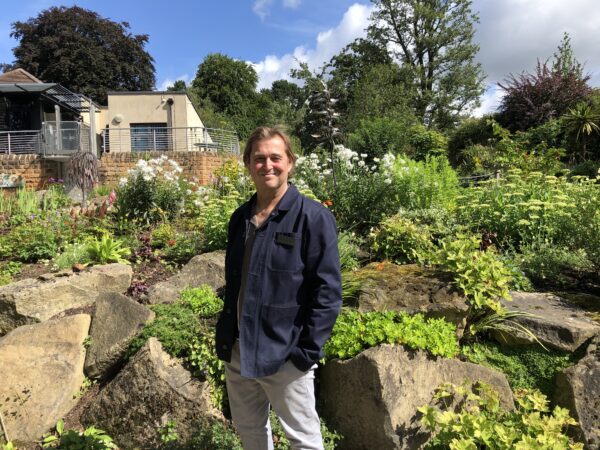 More recently, he sought a change in direction and joined the higher education sector where he has led executive business education and MBA courses in Universities of Bath and Nottingham.
Paul, who has lived in New York, Singapore and Hong Kong. said: "In my mid 40s I reached a point where I got tired of it all.  I'd travelled in 14 countries in one year and was home so rarely I decided it wasn't what I wanted in life."
Career change
At the time, Paul was working at BP and involved in a project in sustainable development with the University of Bath, which prompted his move to the world of academia.  He moved to Nottingham 11 years ago to lead the MBA programme at the University of Nottingham. He went on to be Head of Executive Education and Corporate Relations at the Nottingham Business School.
He has several publications in the field of social and responsible business and has conducted research on social enterprise and volunteering. Paul holds fellowships from Foundation for Management Education, Higher Education Academy, Chartered Institute of Management, and Royal Society of Arts.
Diagnosis
In 2019 Paul was diagnosed with a serious health condition and took medical retirement. This has focused his mind on end-of-life care provision and motivated him to use his skills and experience to contribute what he can.
"My brain is still very active, but I can't work the number of hours or under the same amount of pressure that I used to," he said.
"But I can do three to four big days a month. I want to give the best I can in the way I know best, which lends itself to being a non-exec trustee."
Links to the hospice
Paul, his partner Greg and their dog Wesley (pictured) live within walking distance of the hospice building. Paul frequents the hospice's Vintage and Retro shop in Mapperley, and anywhere that feeds his addiction to vinyl.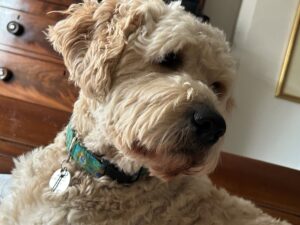 "The hospice is on my doorstep and what it does is really meaningful. I need to be doing something of value," he added. "I hope I can add most value in the areas of marketing and income generation.  Life is for living."
Lifting taboos
Through his work at the hospice, Paul is keen to open up discussions around death and dying.
"There's a great opportunity for us to own the discourse around death, get away from the taboo and lift our profile at the same time," he added.
"Everyone dies sometime, and it is about time we spoke about that."
The Board of Trustees is responsible for the overall governance and strategic direction of Nottinghamshire Hospice. We're always looking for new trustees and are keen to hear from people with relevant professional skills and experience. Find out more here.