4th December 2018
New night support service set to help patients and carers in crisis.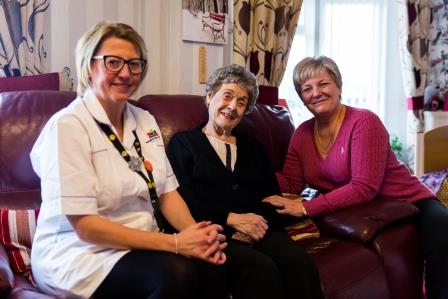 Nottinghamshire Hospice has launched a new overnight responsive palliative nursing service to help patients and carers in crisis, in a move which may cut the need for emergency hospital admissions.
The seven-night-a-week Hospice Night Support service, launched today, will support patients and carers with urgent need for care or emotional support in the night. They will answer call-outs from District Nursing services, social workers or GPs who may be concerned about a patient as well as from Hospice at Home staff working alone in a patient's home.  They will also respond to calls from carers in crisis.
The service, which costs £116,000 a year, received a £66,000 boost from the Jones 1986 Charitable Trust, plus £15,000 from the Jess Spencer Trust and £17,500 from other trust funds.
The hospice has recruited four experienced healthcare assistants who have been trialling the service for the past four weeks. The service is already proving beneficial to patients.
Alice Toseland, (80), of Bulwell, Nottingham was given just a few weeks to live when she learnt her kidney cancer had spread. She was keen to get home from hospital. Nottinghamshire Hospice stepped in to help which meant she was able to be discharged.
Alice lives on her own with carers visiting three times a day. The Hospice Night Support service has taken pressure off family members who would otherwise have needed to come over in the night or stay all night. The team have been able to offer emotional support as well as helping Alice get to the bathroom in the night.
Her daughter Lynda, who lives in Newark, said: "It was such a relief when the hospice stepped in. They pulled out all the stops. Mum was desperate to get home and it meant she could come home a lot quicker than she would otherwise have done. I'd recommend this service. They are absolutely superb."
Lynda (right) with Alice (centre) and Sonia from the hospice care team
Jo Polkey, Director of Care Services at Nottinghamshire Hospice, said: "This new service provides an extra layer of support for people with a terminal illness and their carers in need of sudden urgent help in the night.
"Demand for our Hospice at Home service has increased so this new team will help us meet the needs of more Nottinghamshire patients and their families who need dedicated palliative care in the final days and hours of their lives. It will also help us reach those who aren't currently using our services but may benefit from our care.
"In cases where Night District Nursing staff don't have resources or capacity for a longer visit our team can step in to provide personal care or emotional support at a patient's home. Emotional support for patients and families is also vital when mainstream services aren't available until the next morning.
"We're very grateful to the Jones 1986 Charitable Trust and to all our other funders for their generous grants which have enabled us to provide this new service."
The new service will:
Help more people live independently for as long as possible and to die at home with dignity and support.
Help reduce emergency end of life hospital admissions.
Provide an extra layer of palliative care to support the District Nursing, GP out of hours services and the East Midlands Ambulance Service where they are concerned about a patient.
Help carers be more resilient so they can look after loved ones at home for as long as possible.
Provide emotional support and care for patients and their families.
Currently more than 1,900 people with a terminal illness in Nottingham and Nottinghamshire die without their end of life needs being met. Those most at risk are those aged over 85, people from deprived areas, living alone or with a non-cancer diagnosis.
Deborah Royston, one of the new recruits, has worked as a member of Hospice at Home bank staff for the past nine years. Deborah said: "I wanted to bring my experience to something that promises to be a great new initiative for our community. I'm delighted to be part of this unique project which will focus on the dignity and emotional wellbeing of our patients and will give the staff more targeted support."
The Hospice Night Support service is available seven nights a week, 52 weeks a year from 10pm through to 7am for adults with a terminal diagnosis in greater Nottinghamshire. Referals can be made by telephoning 0115 962 1222.