4th July 2019
Patients get birds' eye view in virtual meadow experience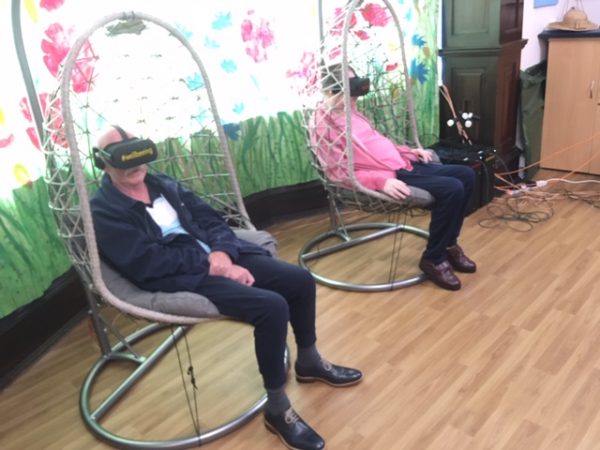 Patients at Nottinghamshire Hospice got the chance to immerse themselves in a virtual wildflower world this week thanks to an installation created by digital developer Simon Mabey.
Simon, of Digital Urban brought his 'Well-Beeing' multi-sensory experience to the hospice to promote the benefits of getting outdoors and the link between nature and wellbeing.
Patients donned virtual reality headsets then sat back in a hammock to enjoy the ride which allowed them to float through a landscape featuring mountains, a pond, and a meadow, encountering birds, butterflies, bees and mammals along the way and taking in the sights, sounds and smells of the countryside.
John, one of the first patients to try out the experience, said: "It's very relaxing. It's like you were there!"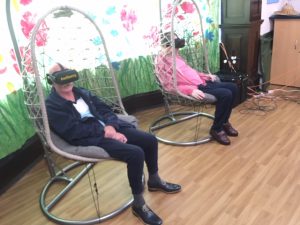 Arthur, another patient who tried out the installation, said: "It's a new experience for me. I enjoyed it. It was unusual but realistic. When I got to the deer I felt like I could reach out and touch them!."
Simon said: "We wanted to bring the benefits of being outdoors to those who may not currently be able to do so. It's designed to be a relaxing environment they can explore and gives them a sense of being outside in nature."
Simon trialled his installation at the RHS Chatsworth show and hopes to take it to other hospices, hospitals and care homes.
The device uses the latest computer gaming hardware, 4D cinema technology, and aroma-diffusing engineering to create the immersive experience.
Liz Morgan, Clinical Nurse Specialist at Nottinghamshire Hospice said: "Patients have really benefitted from the wellbeing it has brought. I can sense the calming effect it has had."
Providing wellbeing activities for our patients is a crucial part of what we do at Nottinghamshire Hospice's Day Therapy Centre. You can find out more about our Day Therapy services here.