25th June 2019
Prize-winning show garden comes to the hospice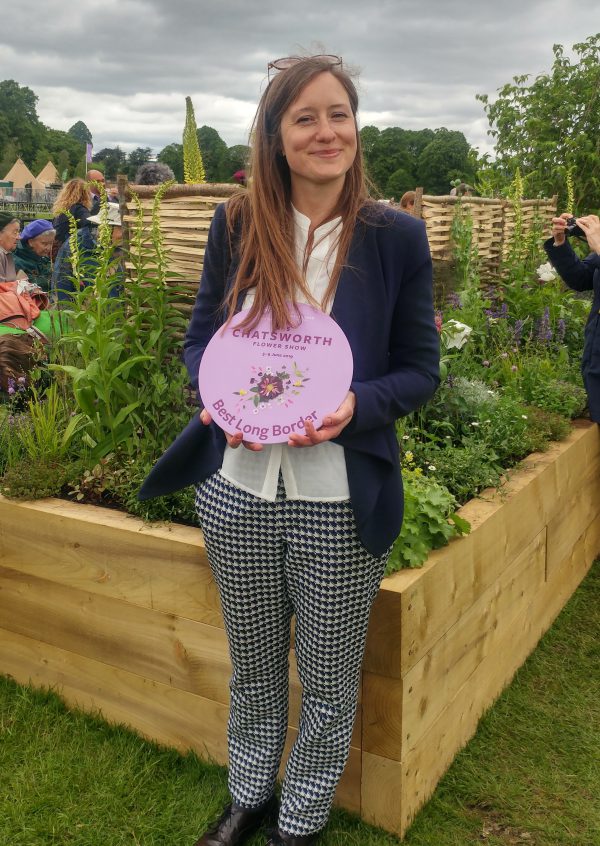 Plants from a border which won a gold medal at Chatsworth Garden show earlier this month have been donated to Nottinghamshire Hospice.
The 'Bess of Hardwick Border', created by garden designer Victoria Philpott, won 'best long border' at the prestigious show designed to celebrate the five senses of horticulture.
Law firm Shakespeare Martineau, who sponsored the border, has donated 140 plants to Nottinghamshire Hospice for patients to enjoy.
Volunteers from the firm are coming to carry out landscaping and planting at the hospice next week.
Janet Hatton, who leads garden activities at the hospice, went to Chatsworth to view gardens at the show. She said: "It's a beautiful and fragrant border full of purples, whites and pale yellows. There are poppies, peonies, salvias, and foxgloves plus a dogwood tree interspersed with herbs, thistles and grasses.
"We're very excited about the plants coming to the hospice and so grateful to Shakespeare Martineau for thinking of us. Our patients will love the new border!"
Duncan James, head of Shakespeare Martineau's Nottingham office, and one of the volunteers coming to the hospice commented: "After the garden wowed visitors to Chatsworth we were keen to make sure the plants were repurposed to great effect.  Helping the hospice with these beautiful specimens is a pleasure and we are delighted to bring a bit of Chatsworth 'gold' to the garden here for everyone to enjoy."
The garden plays an important part in therapeutic activities at the hospice. Patients get involved in planting and gardening activities and enjoy being outdoors when weather permits. This year Nottinghamshire Hospice has been chosen to part in the National Garden Scheme for the second year running with an Open Garden Day on Sunday 4 August.