30th June 2022
Quality Account highlights achievements in care
Nottinghamshire Hospice provided more than 46,000 hours of care in patient's homes last year, supporting more than 2,300 patients at the end of their lives – according to its 2021-22 Quality Account, published today.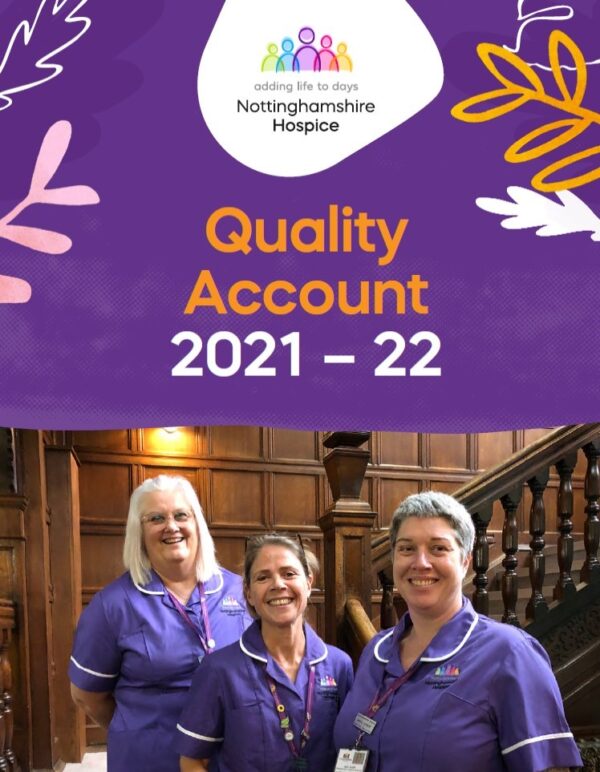 The report highlights achievements in Care delivery during the year including:
Welcoming patients back into the building after the COVID-19 pandemic to a new goal-focused, therapy led model of day services
Developing a new eight-stage programme to help patients achieve their goals and live their lives as fully as possible
Reviewing services in patients' homes to deliver a more flexible package of round-the-clock care and develop a new Care Strategy
Improving accessibility to Bereavement and Carer support by providing support groups as well as face to face and telephone support
Appointing a new Chief Executive, Director of Care, Director of People Services and Director of Income generation to drive delivery of the new Care Strategy.
Brokering a partnership with the East Midlands Ambulance Service to prevent unnecessary hospital admissions for end-of-life patients.
Rachel Hucknall, Chief Executive Officer, pictured below, said: "The pandemic clearly caused substantial global challenges, especially for healthcare services, economies and mental health resilience. Despite this, opportunities arose to rethink services, focus on staff wellbeing and use IT in new ways.
"We have actively embraced learnings and opportunities from the pandemic in our delivery of services in 2021 – 22."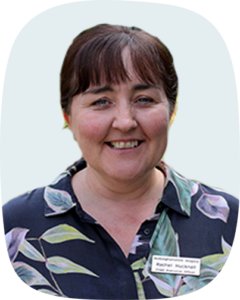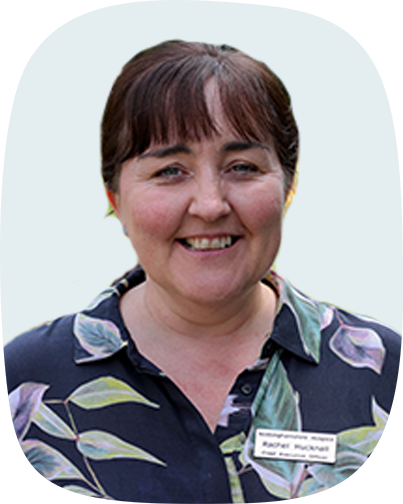 During the year, Nottinghamshire Hospice care teams delivered:
32,960 hours of Hospice at Home care
6,378 hours of Hospice Night Support
6,775 hours of Hospice Outreach and Discharge Support
1,110 hours of therapy
Positive feedback
The hospice received hundreds of positive comments about its care from patients, families and carers throughout the year.
In February, the hospice stepped with a package of care to enable Joan Shaw to come home from hospital so she could spend her last few weeks with her beloved husband Frank.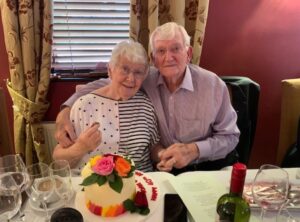 Frank said: "We wouldn't have been able to manage without the hospice care. It enabled me to bring her home. The hospice helped us enormously."
Other comments from families and carers included:
"My sincere thanks to your teams of carers – they were the very best help that I had, efficient, professional, respectful and most of all kind – always."

"As a team you shine a light into the darkest days. Your angels are truly the best."

"I have never experienced such a band of willing, compassionate, efficient, kind, caring individuals."
Stakeholder comments
During the year, the hospice worked with other care providers in the area who also gave positive feedback.
A spokesperson from the District Nursing Service said: "Notts Hospice are a great source of support for us when we are awaiting fast track packages of care to start."
One MacMillan nurse said: "Nottinghamshire Hospice are a phenomenal service. They help me in my job as a Macmillan nurse and help keep patients at home which was their preferred place of care."
A spokesperson from the Primary Integrated Community Services said: "Feedback from families is that Notts Hospice are extremely supportive when they are involved and this involvement allows families a short period of respite.
"I've had quite a few families who have nothing but praise for the support Notts Hospice have given them."
You can read the full report here