6th October 2021
Runners go the distance for Nottinghamshire Hospice.
Hospice supporters have taken taken to the streets in their running shoes in the past few weeks, taking part in iconic races and raising more than £10,000 between them.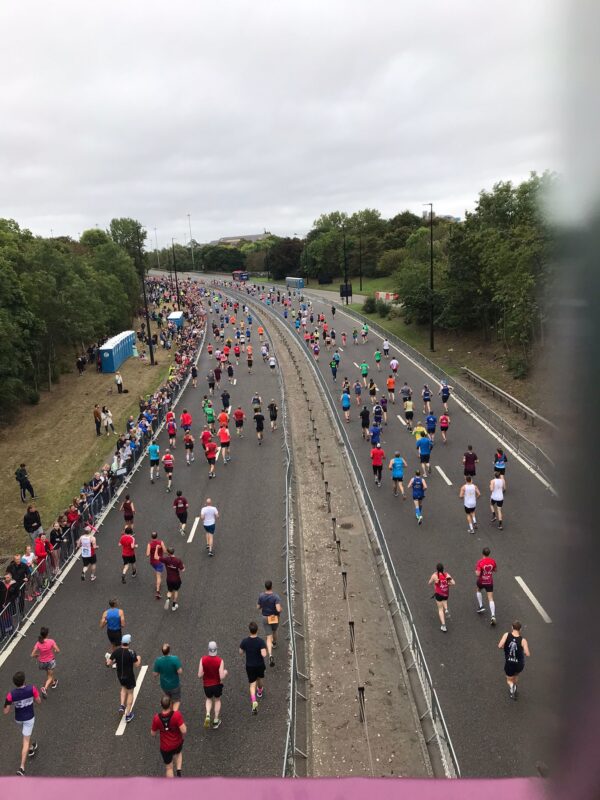 Great North Run
Seven runners took on the Great North Run, the world's largest half marathon, which this year started and finished in Newcastle and saw 57,000 runners take part in staggered timeslots.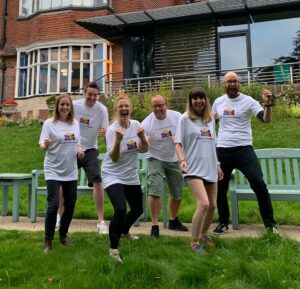 Among them was Ian, pictured third from right, who ran the race for the second time for Nottinghamshire Hospice. Ian said: "The great thing about the Great North Run is the atmosphere all the way around the route from the public to all the marshals. The wow factor for me was seeing my wife half way through running this half marathon for the first time – and of course the Red Arrows!" Ian is also signed up to run the Manchester Marathon for the hospice this weekend.
Keiran has also supported the hospice before. He said: "From high fives with Sir Brendan Foster, the Red Arrows flying overhead at the Tyne Bridge and the last mile on coast road, the Great North Run is easily my favourite road race. When I heard the hospice had places, it was a no brainer to run for them. Both my parents died of cancer when I was a teenager so I know the pressure families go through during those difficult times. If I can raise even a little money for the hospice, I feel like I'm helping families going through what our family did."
Robin Hood marathon events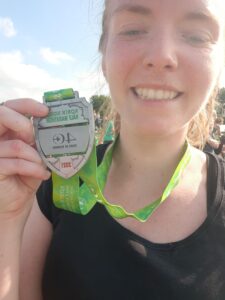 Supporters who tackled the Robin Hood Half Marathon included Roisin  – pictured – who ran in memory of her grandad Joe, a regular in Day Therapy at the hospice before he passed away earlier this year, plus a team from the East Midlands Chamber, and Bryan and Annette who used the race as a warm up for the London Virtual Marathon.
Eight year old Priya ran the 2.5 km mini-marathon, raising £200 for Nottinghamshire Hospice. Priya's dad Sameer said: "She chose to run for Nottinghamshire Hospice because she 'wanted it to go to helping people that were unwell and needed cheering up the most.'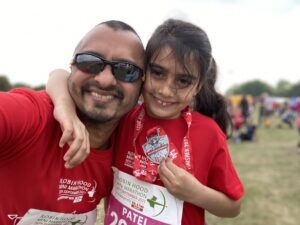 "Priya worked really hard preparing for the challenge and ran the full course. She's really taken to running and wants to use it to raise more funds for great causes."
London Virtual Marathon
Two runners took on the London Virtual Marathon, running the 26.2 miles in routes they designed around Nottinghamshire.
Annette, who also took part in last year's race, as well as the London Landmarks half marathon earlier in the year and many other races during the last 18 months, ran in memory of her father as a thank you for the care he received from Nottinghamshire Hospice before he passed away in 2019.
Annette ran some of the distance on her own and was joined by friends for other sections, with members of her running club – Notts Women Runners – running her for the last section.
She said: "My club are just such an amazing supportive lot and although the last couple of miles were tough, they got me through."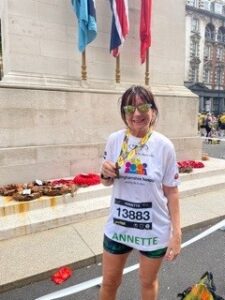 Annette has done a huge amount to support the hospice, including putting on a 'school night' disco and prize draws, raising a total of nearly £ 2,600. She is planning to run the marathon in London next year.
Bryan ran the 26.2 miles despite battling Long Covid. Bryan, who ran the race dressed as Superman, caught Covid in March 2020 but continued to struggle with his breathing. He was referred to a respiratory consultant who said he had a part collapsed lung and damage to the phrenic nerve controlling the diaphragm. He's under continuing observation and his condition has reduced his lung capacity by half.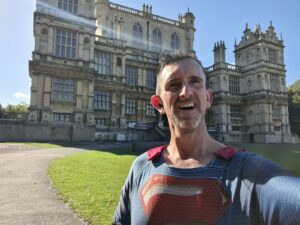 Undeterred, Bryan – who has been competing in running events since 2015 – completed the race, his first ever marathon, in a route that started at his parents' house in Mapperley, passed the hospice building on Woodborough Road, and took in several of the hospice shops, finishing at Radcliffe on Trent.
He ran in memory of his mother Anne, who received hospice at home care at the end of her life last year.
He said: "This first marathon was a tiring, fun and emotional run. It was a distance I'd never attempted before, even when I was healthy. The hospice put posters and messages of support in their shop windows which were brilliant, and people cheered me on along the way.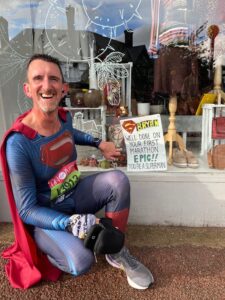 "Thank you to everyone who has supported me – I'm delighted to have raised so much money for Nottinghamshire Hospice."
Rebecca Taylor, Community Fundraiser at Nottinghamshire Hospice, said: "We're so grateful to all our runners and impressed by all their achievements. They're really got behind our running challenges this year and raised a truly impressive amount for the hospice which has made a huge difference to the care we're able to provide."