22nd October 2020
Runners go the distance for Notts Hospice in Virtual London Marathon
Two runners who signed up to run the London Marathon for Nottinghamshire Hospice completed the virtual race earlier this month, raising nearly £4,000 between them.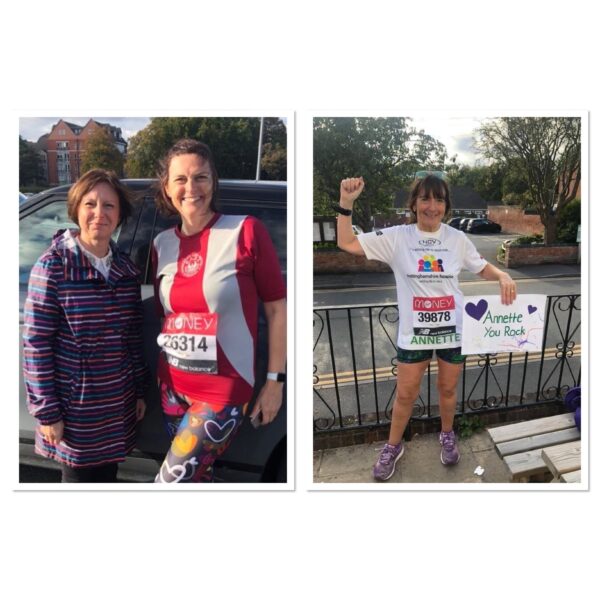 Runners Annette Knowles and Yvette Dean were disappointed when the London Marathon was postponed – twice – due to Coronavirus but were determined to keep up their training and motivation. Both continued to support the hospice through practice runs and other fundraising activity during lockdown.
Annette – who was selected for the hospice's only London Marathon place –  did the distance in four 10K stints around her local area of Lowdham and Stoke Bardolph. Running buddies from her club  –  Notts Women Runners – accompanied her for some sections of the route.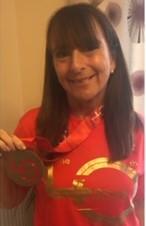 Annette, pictured above with her medal,  said: "I got to 19 miles and said to my friend, 'my legs ache a bit now', but I had another energy gel and cracked on with the last part. I felt so good at the end, not out of breath or even aching."
She finished the marathon at her local pub, the Old Ship Inn at Lowdham where a distanced welcoming committee of supporters applauded as she passed the improvised finish line.
She said: "The support on the day was amazing – overwhelming really. I couldn't have done it without them. I feel really chuffed to have done it without struggling or aching and it has given me confidence for the real one next October."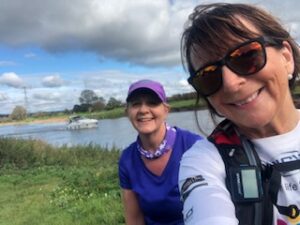 Since March Annette has taken part in 35 virtual races and challenges and has raised more than £2,500 – easily smashing her original £1.5K target.  Annette also put on other fundraising events in her community including a 'school night' disco (pre-lockdown), and prize draws.
She ran in memory of her father as a thank you for the care he received from Nottinghamshire Hospice. She says running helps her channel her grief for her father who died last year.
Yvette,  pictured below, won a cherished London Marathon place through her local running club and completed the virtual marathon in eight different park runs and raised more than £1,300 – doubling her fundraising target.
Yvette, who ran in memory of her father-in-law who attended Day Therapy at the hospice, said: "It was a long day and I was supported at various park runs by family, friends & running buddies.  I had to walk the last 10k-15k as I strained my thigh and it became too painful to run – but I completed the mileage and felt extremely proud.
"I know my training tailed off during lockdown but I'm so happy and pleased that I took part in this virtual marathon and was able to raise some additional funds for Nottinghamshire Hospice."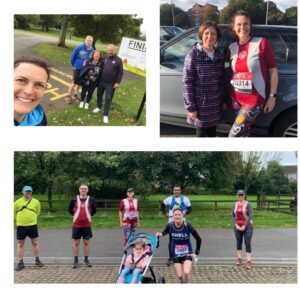 Earlier in the year Yvette set up a virtual 5K race during lockdown and persuaded 30 other people to get involved.
Plans for 2021
Both runners hold places for London Marathon 2021, and plan to do more fundraising then.
Roxie Hickling, Fundraising Officer at Nottinghamshire Hospice, said: "It's hard to keep up fitness and motivation at times like this but Annette and Yvette's determination to keep going has been inspirational. Congratulations to both of them for doing so well in the virtual race. We're really grateful for all their support and wish them well for their training next year."