31st August 2021
Sam stars in second book to raise vital funds
Hospice supporter and patient Sam Perkins has featured in a second 'Adventures of Lily' children's book sold to raise money for hospice care and Motor Neurone Disease research.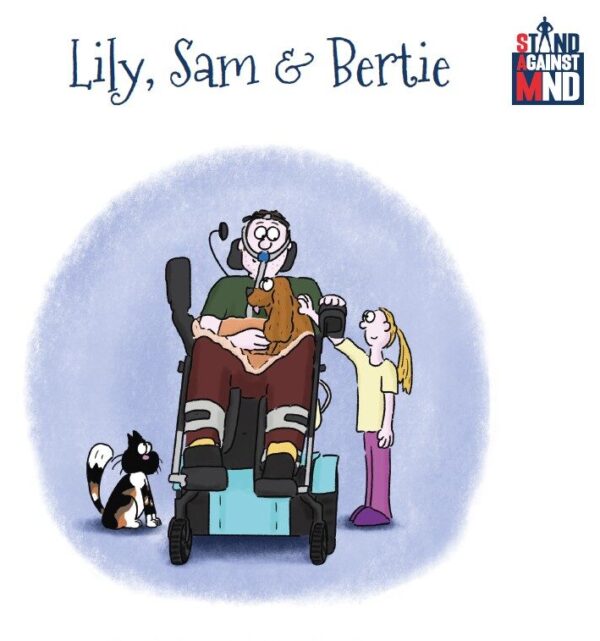 Lily, Sam & Bertie – by Sam's sister and brother in law Victoria and Andy Stonehouse  – is a sequel to the book they published last year and features Sam, his wife Emma and their young niece Lily as well as a new character – a golden cocker spaniel puppy called Bertie.
Sam has been helping Lily train Bertie – Sam and Emma's lockdown puppy – as a means of helping her overcome a fear of dogs. Now the two are best of friends.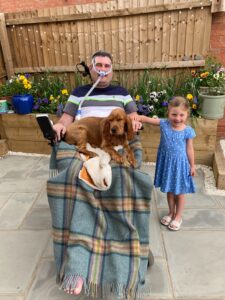 The book blurb explains: 'One day Uncle Sam and Aunty Emma bring home a new puppy called Bertie. Bertie is great for Sam and is as cute as can be, but Lily is nervous around dogs. Uncle Sam sets about helping Lily overcome her fear by setting tasks for Bertie. However, Mia the cat is very protective of Lily. She doesn't trust Bertie at all… Will they ever all become friends?'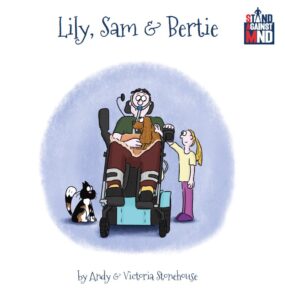 The first book, Lily and Sam, published last year, was a finalist in The Wishing Shelf Book Award. It got five star reviews from a panel of primary school children. Both books are written in rhyme.
Author Andy Stonehouse said: 'We wanted to explore Sam's relationship with Lily further with this book. In spite of Sam's disability, Lily learns from her Uncle.  With the introduction of Bertie the dog we were able to explore friendship and overcoming fears in the story, plus introducing young readers to disability. We hope that the parents and children who read the book will be entertained as well as having their awareness of MND and the charity raised.'
Sam, diagnosed with MND aged 37, returned to the hospice in May for regular massage and counselling sessions. He said: 'Lockdown was an unusual and difficult time. I had home visits from Matt for massage and spoke to the counsellor every week which was really valuable, but it's lovely to be back in the building.
'The hospice has changed, as the world's changed, so it's a different experience, but it's great to see  services start up again and it will be good to see this develop as confidence builds around having people in the building.'
Last year Sam and Emma set up their own charity Stand Against MND (SAM) to raise money for Nottinghamshire Hospice and MND research. The charity how now raised more than £60,000 and has part-funded two research projects.
Both Lily and Sam books are on sale in aid of Stand Against MND. Copies of Lily Sam and Bertie are available here  
If you'd like to support Nottinghamshire Hospice by putting on your own fundraiser or challenge, there are lots of ways to get involved. Find out more here